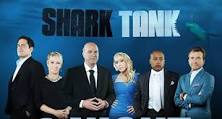 My favorite TV show is "Shark Tank". In case you are not aware, it features people of all ages and circumstances who come before a panel of investors who fund the worthy ideas and businesses of budding entrepreneurs.
My favorite Shark Tank episode of all time featured a young woman, Sarah Oliver, who knits handbags. Her business grew to the point where she needed help so she hired residents (who could knit), ages 78-96, from a local retirement community, to help her knit handbags.
My only concern is that she pays a knitter only $17 for each bag and only three can be produced in a week. Based on the retail price for the bags, it seems they should be paid more. That said, I don't know the details of what it costs to run the business. However, I very much favor fairly  "sharing the wealth" with employees who help create wealth. I believe it is in giving that we get.
The handbag business has been a huge win for Sarah Oliver, but it's an even bigger win for her retirees who are clearly thrilled with their ability to be productive. It's exciting to watch them at work, to see the youthful enthusiasm in their eyes and voices.
It makes you wonder — what else are retirees capable of? I can't believe that all old people in retirement communities are thrilled to be where they are, locked up with other old people in various stages of decline with nothing to look forward to except boring traditional "old people" activities.
In San Diego, an upscale retirement community "by the sea" proudly advertises its lovely location and shows old people walking around the grounds, laughing and enjoying their "good life". It's all very nice, I am sure, but I can't help but wonder how many of them, behind closed doors, are bored to death with the monotony, wishing for the lives they used to have before they were conned into believing retirement was what they needed and wanted.
Sarah Oliver's team of knitters suggests that if organized, capable, purpose driven  retirees could totally upend and revolutionize the decline-oriented retirement culture. It would energize legions of old people who dream about what was and instead, they would be able to revel in a new life of purpose and productivity, and wouldn't that be wonderful. Visit the Sarah Oliver Handbags website here