Escondido, CA, April 16, 2012
Barbara Morris publishes I'm Not Goin'There! A Gutsy Girlfriend Guide for Boomer Women Who Don't Want to Spend Their Golden Years Cuddling With Their Cats.
 After a lifetime of work boomers  eagerly look forward to retirement,  finally able  to do everything they dreamed of doing while working. But boomers should beware, says Barbara Morris. She exposes unanticipated lures, traps, and pitfalls boomers encounter on their journey into retirement.
 As teenagers, boomers declared, "We'll never get old" which has now morphed into a defiant "We're not goin' there" — meaning they are intent on not "getting old." Unfortunately, Morris warns, the snare of the traditional retired lifestyle will lead many boomers to fall into premature decline. It's a trap, says the author, because the fantasized expectation of what retirement will be like is usually out of sync with the reality of the traditional retired lifestyle. Unless properly prepared, retirement can be an unexpected bitter disappointment.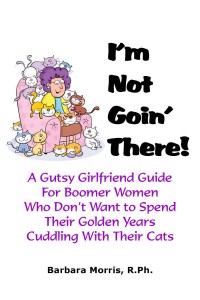 An unprepared retirement is just one of the major traps identified by the author, who at 83, has "been there and done that" and knows what boomers must know and do if they want to realize their youthful desire to "never get old." 
Barbara Morris identifies another trap — the tendency of older women to allow awareness of chronological age to shape and control how they think and make decisions. The  trap is difficult to escape because the significance of chronological age is  reinforced by archaic cultural norms and outdated traditions. 
I'm not Goin' There! not only helps women look at the aging process from an entirely new perspective, it provides tools and motivation boomers need to realize their teenage mantra, "We'll never get old" which is absolutely doable according to Barbara Morris. She asserts aging is inevitable, but getting old is a controllable option. 
The author's personal experience in dealing with boomers and retirees gave her insights into what can be done to extend youthful qualities and abilities far into the older years, and she eagerly shares what she knows. Barbara Morris says, "I've beaten the babushka off of Mother Time to a degree that amazes me, and other women can do the exact same thing if they follow my advice." 

About the author: Barbara Morris is a pharmacist and writer. She has published three books to help boomers wade through the murky waters of the aging process: Put Old on Hold; No More Little Old Ladies and I Don't Wanna Be My Mother.  Her websites are www.PutOldonHold.com and monthly newsletter www.PutOldonHold.com/Journal Contact: author.office@gmail.com 760-480-2710
 The Global Ebook Awards honor and bring attention to the future of book publishing: Ebooks. Now in its second year, the Awards are in 72 specific categories. They are open to all publishers large and small so that a winner is the best in its category not just the best of small or regionally published ebooks. Most ebooks are also available as printed books as well. The awards ceremony will be in gorgeous Santa Barbara on August 18, 2012. See http://GlobalEbookAwards.com
 I'm Not Goin' There! A Gutsy Girlfriend Guide for Boomer Women Who Don't Want to Spend Their Golden Years Cuddling With Their Cats is downloadable to steal for $1.99 and available on Amazon Kindle as well as iPad, Nook, Kobo and other readers. See www.ImNotGoinThere.com for Barbara's video and  additional information.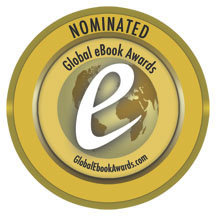 ###