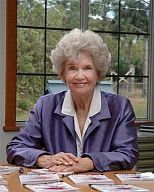 I am among the unique; I had a wonderful childhood! I wouldn't change anything. Well, maybe my dad could have been a little less strict but I survived it. At the same time, now I realize that I never would have gotten married so young if I'd had the freedom to date after high school graduation.
An early divorce at 19 stamped 'FAILURE' in my thoughts and this mindset followed me too long. It took over 15 years before I could stand with any backbone and tell myself, "I am somebody!" When I realized that God does love me, it changed my attitude about myself. If He loves me, then I am somebody special… and worth loving. So I began to love myself. I had been so disappointed in life and in myself, that it took some time to really see myself in this new light. How wonderful it is!
Since that time I have realized many abilities that He gave to me. I had not even thought of these before. Once I knew, I began to use these in several ways and oh, what a sense of accomplishment I have enjoyed! Wonderful doesn't cover it!
As a 'failure', I felt below a zero; a painful place to be! It was like coming up for air to feel so different about myself! Since then it has been a challenge to see what I could do! I've accomplished so many things that I didn't know how to do! Don't laugh; that is really true!
To add to the joy of it, these 'things' are those that I enjoy! I imagine that many have not realized what they enjoy the most. In the past few years, I have asked many 40 to 45-year-olds, "What do you really like to do?" Too many replied, "I don't know." If you don't know the answer by that age, when are you going to know? I knew what I liked to do but did not believe that I could succeed…a hanger-on from that earlier feeling, 'but what if I can't?' To learn otherwise, I had to try, otherwise I would never know if I could. When I succeeded, then I had the courage to try other things I enjoyed. What a pleasure to learn that God would help me succeed at different things! I am grateful for every success.
How about you? What is your dream? You won't know unless you try! I would imagine that you have the ability. This is only good if you use it! Why don't you do as this great-grandma does – even at age 81? TRY! If you don't succeed, then go on to the next item on your list! Then you can learn to enjoy your days as you accomplish that something that you enjoy doing! This Is a wonderful gift to yourself!
About Lura Zerick
Lura Zer­ick is an 81-year-old great grand­mother who enjoys learn­ing new things. Give heran Elvis song with a good beat and watch her go! Her favorite things are read­ing, lis­ten­ing to music, singing, cooking/baking, birds and words. She enjoys her 12 great grand­chil­dren and 6 great grand chil­dren; loves to encour­ages them to cook, write and sing, as well as use their other abil­i­ties. Lura can be reached at lzerick@aol.com