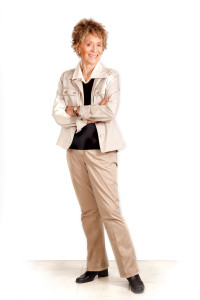 This is probably the only site on the Internet whose sole purpose is to identify the retired senior lifestyle as a culture of decline and to encourage Boomer and younger women to avoid it if they wish to stay youthful, vital and dynamic in their mature years.
It's difficult  to avoid becoming a traditional "senior" because our culture automatically labels those over 50 as "seniors". But I know it is possible to avoid the senior trap. I'm doing it and other healthy women can do it, too.
This site is where you will find encouragement to be the woman you always want to be–strong, vital, dynamic, productive, and ageless.
Not sure
No More Little Old Ladies!
is right for you? Read the following review published in the
Boomer Brief
:
Barbara Morris', No More Little Old Ladies! 15 Essential & Specific Proven Anti-Aging Strategies for Gutsy Women in Their 40s and 50s, should be required reading for every Boomer. It's that good.
At 81, this lady knows what she's talking about. The pharmacist and advocate for Boomers who want to avoid the traditional decline of age, is a wellspring of been-there-done-that wisdom. Her book isn't a cliché ridden remix of common knowledge. There's real insight here and every page is full of points that'll have you scrambling for your bright yellow highlighter.
Yeah, she's gutsy. With chapters like Unleash Your Pit Bull, Refuse to Age Gracefully, Protect Your Youth from Culture Vultures, you know you're in for a legion of life lessons delivered with a Boomer attitude.
At 167 pages, the book is a quick and easy read for all of us time-crunched Boomers. Her prose is clear, concise and dead-on perfect chapter to chapter.
When Barbara sent me the book, I asked her to give us her Top Tips for Boomers and she graciously obliged.
Barbara Morris' Top Tips for Boomers
Plan how you want to live during your retirement years. You can't play golf, go on cruises, or travel forever.  After the "honeymoon phase" is over, do something that provides balanced lifelong productivity. It will help you avoid the traditional retired senior culture that is a culture of decline.
1.Monitor how you are changing. At 40 or 50 at the latest, inventory youthful attributes (such as strength and flexibility) and work to maintain and improve what you have. A consistent exercise regimen is a must. It's easier to keep what you have than to try to get back what's lost. Personal freedom and independence, a result of good health, are crucial as you continue to mature.
2.Don't talk about your age. When others know your exact age, you expose yourself to their biases, perceptions, and expectations for how someone "your age" should conform to society's norms and you may not like how you are treated.  Find and associate with healthy, positive, future oriented people who don't care about age. You are what you say you are.  Don't tell yourself you are getting old, having senior moments, or call yourself an "old broad" or "old geezer." Refer to yourself as mature, never a "senior."  Negative self-talk isn't cute; it damages self-esteem and shuts down motivation for growth.
3.Avoid living in a "golden ghetto." It's comforting to live and associate with people your age but age based segregation is a prescription for insidious decline. We adopt the thinking, attitudes and behaviors of those we associate with most frequently, especially as the community and residents get older and have more mental and physical challenges.
Author: Barbara Morris
Publisher: Morgan James Publishing
Penned: February 2009
Time Out: The 167 pages are so chock full of great advice you'll be reaching for your bright yellow highlighter. It's that good.
Beach Worthy: Yes, but she'll have your mind racing with ideas from the minute you start reading. This lady doesn't sit still and you won't be able to after you read her book.