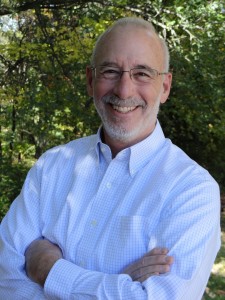 Can a social conversation have a positive impact on how fulfilling your life is?  I contend that it can, and I'm convinced the magnitude of the impact is in large part driven by whether or not you and your conversation partner are asking the "second question."
Over the past six weeks, I've had more than my usual opportunity to engage in conversation.  My wife and I joined 18 others on a two-week group tour of Eastern Europe; Berlin, Prague, Budapest, Krakow, Warsaw, and points in between.  There was plenty of time on the bus, at meals, and while walking around to interact with group members and guides.  By the way, everyone should consider this trip for their bucket list.
This past weekend, we drove from home in St. Louis to Chicago for a cousin's Bar Mitzvah.  Relatives from all over the country descended on Evanston, Illinois for the event and weekend-long celebration, and we met a lot of people for the first time.  There was a lot of catching up to do with people we don't see nearly often enough, and a lot to learn about and from the new acquaintences.
More typically, today, I had lunch with a high school classmate who remains a friend more than five decades later.  We talked for two hours.
Through all of these conversations, I observed that those discussions in which the second question is asked are the ones that are much more enriching.  And those inviduals who ask the second question are those I find myself most wanting to be with.
You and I know people whose objective in a conversation is to make it all about themselves.  What's the joke?  "Well enough about me.  Let's talk about you.  What do you think about me?"  My father used to say about people like this, "A little bit of them goes a long way."
Now consider someone who clearly expresses interest in what you have to say.  They ask you a question that might first seem superficial, "What's keeping you busy lately?"
When you respond to their question, they don't move on to something else.  They don't start talking about themselves.  Rather, they ask a second question to take you deeper into the subject, "Oh you're writing another book.  Great.  What are you writing about?"
Then they usually probe even more.  It becomes clear that they are not doing this merely to show they are interested in you.  They really are interested.  They seem to know instinctively that if they continue to ask more probing questions, two things will happen.  First, they may actually learn something.  Lou Holtz, the successful college football coach once said, "I never learn anything talking.  I only learn something when I ask questions."
Secondly, they are building a deeper relationship with you.  Consider where the relationship will go if both parties are asking the second question and beyond.
Continuing to learn and nurturing meaningful relationships are both important to creating and living a fulfilling life, perhaps especially as we age into and through retirement.  Deep personal relationships have been shown to have a positive effect on both longevity and quality of life.  And we all know how important it is to keep our minds sharp by continuing to find ways to be intellectually stimulated.
If you're convinced, it's time to practice.  In upcoming conversations, be mindful of whether the person you are talking with is asking second questions.  Are you?  If you are not, make a conscious effort to do so.  You'll find you are both learning more and building deeper relationships.
If those you are interacting with are only talking about themselves and are stopping after asking the first and superficial question, decide what action to take—either spend less time with them and more with those who ask the second question or send them a link to this article.
Your longevity and quality of life will be enhanced.  Ask the second question and talk with those who do.
—————————————-
Alan Spector is the coauthor, along with Keith Lawrence, of the book, Your Retirement Quest: 10 Secrets for Creating and Living a Fulfilling Retirement. Alan and Keith conduct workshops around the country, helping Baby Boomers plan for the non-financial aspects of retirement. Since retiring from a successful 33-year executive career with the Procter & Gamble Company, Alan has been a founding partner of three businesses, the author of five books, and deeply involved with social service organizations, community initiatives to reduce violence, and education programming. He is a management consultant, baseball player, nonprofit Board member, frequent traveler, speaker, blogger, and most importantly, the active and proud grandfather of four. Alan lives in St. Louis with his wife, Ann.
Alan's fifth book, Body Not Recovered, has been named as a "Hot New Release" on Amazon. Learn more about Your Retirement Quest at www.YourRetirementQuest.com, and learn more about Alan and his books at www.aaspector.com.