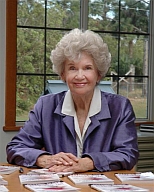 During our lifetimes, all of us receive many gifts. These might be some of the material things we long for – or we could be totally surprised by the items we receive. These gifts make us happy – temporarily — to know that someone cares enough about us to give us a gift. This is all well and good and our lives are touched by the thoughtfulness of others. There is one gift, however, that some of us accept while others might reject it. This is the gift of God's love, the greatest gift of all.
This gift cost us nothing, yet it is priceless. It has been paid for, but we didn't pay; we have only to receive and accept this gift. When we do this, we have an inner strength that is not our own. We can face whatever obstacles come at us during our lives, knowing that we are being led by another, the One who made us, our lives and everything else possible.
Many of us take so much for granted; it is as if we believe we are entitled to the good things in our lives. Actually, we are not; we don't deserve the things we have and enjoy. From most of our actions, we don't deserve anything. Our human nature cries, "More!"; we are often eaten up with the cancer of greed. This trait comes too easily to many of us. We see all that we don't have rather than the things we have. Too often we don't truly appreciate the basic things that keep our lives on tract. When was the last time you said, "Thank you, Lord, for my family and our home"? That is just beginning of all we are given – by One who truly loves us.
Other things to be grateful for include our food and clothes. Have you and/or yours been hungry lately? Have you ever been without food? One thing that will help to make us grateful is to have no food and no way of getting any. Then we realize how wonderful it is to have our meals every day.
Our good health is another blessing that we often overlook. When we get out and see the conditions of others around us, are we thankful that we can be 'up and about', able to go places and enjoy many activities?
We celebrate Christmas because of the birth of Jesus; this celebration is enjoyed in many countries other than the United States. There are many who do NOT celebrate this 'holiday' because of their different beliefs. That is their choice. For those of us who enjoy this special time of "gift-giving", too often our thoughts are on the next shop we want to visit, rather than the reason we are giving and receiving gifts. We forget that the greatest gift is available to all of us; we have only to receive and live accordingly.
When we truly receive this gift, we will want to give, rather than continue to receive. Our lives will be changed by the love and mercy we have received. We won't be so quick to judge others; that is not our job. We will remember that others, like us, are humans and make mistakes. Through the gift of everlasting love, we learn that our wrongs, and those of others, can be forgiven. The heavy load we have carried will be removed through forgiveness and we can go on with a meaningful life. We will want to live by "Do unto others as you would have them do unto you…" (Matthew 7:12) We will learn to treat others the way we want to be treated.
Don't you agree that is the greatest gift we can have?
ABOUT LURA ZERICK                                                      
83-year-old  Lura Zerick is the mother of 5, grandmother of 12 and great-grandmother of seven. She was born and raised in the Florida Panhandle and now lives on six acres of woods in S.E. Alabama, near Geneva.
She has been writing since 1965. Her articles are published in regional and national magazines. She has authored five books:  Who Do You Think You Are? (1989), The Golden Olden Days, (2002) River Villa (2007) The House of Esther (2011) Getting Older and Enjoying It! (2004) (The last book was one of three chosen nationally to be featured in an article written by Donna Childress and published by the National Council on Aging in the Fall/Winter issue of their publication, INNOVATIONS)
Lura has composed lyrics and music of 70 gospel songs and recorded 15 songs on 2 CDs.. She sang show tunes and popular songs in nightclubs, a cruise ship, with several TV guest spots.
She wrote and produced a weekly, then daily, radio program, "Encouragement for Today's Woman"; edited and published "Living with Hope", a quarterly newsletter of the writings of women across America; co-hosted a 2-hour weekly radio program, "The Saturday Morning Show"; participated in and co-produced a Sunday afternoon gospel music radio program.
Lura was Executive Editor of a regional magazine, Grassroots South; Editor's Assistant for an international publication, "Journal of Marital & Family Therapy";  wrote a newspaper column, "Encouragement for Today " as well as features and news articles for various newspapers. Her articles have been published in Alabama Living, Spirit Led Woman, Just Between Us, Writer's Digest, Mature Living, Christian Single, Army Flier, Army Times, Looking Back and other publications.
Lura is currently working on three books: Bible Quest, Feeding Our Spiritual Selves and Another Woman; Another Well, the story of her life.
As a survivor of years of domestic violence, Lura had no idea that her best and most rewarding  years were in the future!