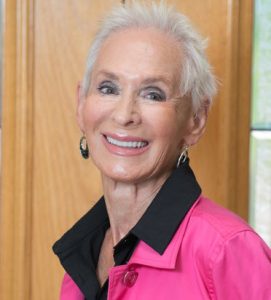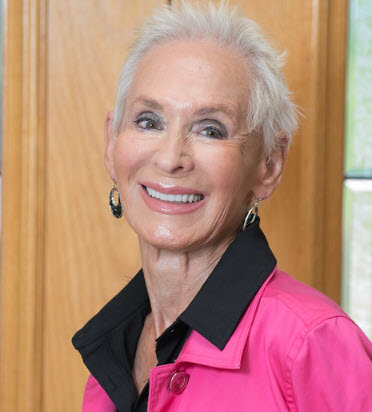 Right out of the gate, I'll say it: : I don't like visible tattoos on a woman.
 Some tattoo designs are beautiful and artistic but belong on a canvas, not a human body. I'll accept tattoos on a man because men are — well, they are men.
Does a would-be tattooed woman ever stop to think about the INTERNAL  effects of various inks that pierce the skin to create often hideous designs? Probably not. What's important in contemporary culture is being part of the Facebook culture, or perhaps the Chinese-owned and regulated TikTok — doing what others do to gain approval or social acceptance. The important thing is to get as many "likes" or "followers" as possible. That's the definition of stupidity. Too harsh? Think about it.
I occasionally watch the TV show "Say Yes To The Dress," where soon-to-be brides try on different wedding dresses to find the dress of their dreams. Parents and friends help the bride make a decision. Invariably, beautiful young girls choose strapless dresses that expose as much skin as possible. That's okay, but no one notices or comments that bare-top dresses often reveal shoulders and arms inked from top to bottom. Everyone pretends they don't see the tattoos. The beauty of the dress is lost.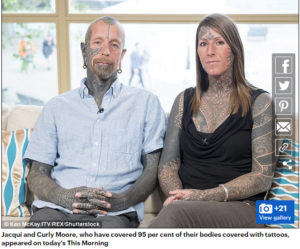 Look at the photo to the left. The couple's bodies are 95% covered with ink.
It is difficult to imagine how much ink it took to create her design and, more importantly, how much ink has seeped through her skin cells and taken up residence in one or more internal organs. Lupus, anyone? Lifelong vague aches and pains with no discernible cause?
Let's talk about tattoo ink just a bit:
Here are the chemicals that are found in specific tattoo ink colors:
Red—azo pigments, mercury, cadmium, and iron
Blue — cobalt, copper
Green — chromium,

lead,

aluminum, and copper
Yellow — cadmium,

lead,

and zinc
Orange — cadmium
White —

lead,

titanium, zinc, and barium
Black — nickel
.Today you cannot buy house paint if it contains lead. It's poison to the human body.
What else can be found in tattoo ink? Nanoparticles, bacteria, and additives. Research published in The British Journal of Dermatology noted that the nanoparticles in tattoo ink are so small they can penetrate through the skin layers and into the bloodstream.
These particles have potentially toxic effects on the brain, cause nerve damage, and may even be carcinogenic. Black ink is most often associated with higher levels of nanoparticles.
Studies also suggest that tattoo inks are sometimes contaminated with bacteria, including Staphylococci, Streptococci, and Pseudomonas, even with preservatives.
I remember actor Mark Wahlberg explaining why he had his tattoos removed, which is a painful procedure. He said he got them removed because "I grew up."
An article in  Psychology Today pretty much tells the story about the acceptance of tattoos on a woman, and it's not pretty:  
About 23 percent of women in the United States have tattoos.
One study shows men judge women with tattoos as less motivated, honest, generous, religious, intelligent, and artistic than those who don't.
While men see tattooed women as less attractive, they also see them as more promiscuous.
But wait: Some studies show tattoos on women and men may also help get a job! Go figure.
Believe it or not, we humans are made in the image and likeness of God. We are born with beautiful skin. I suggest we stop trying to play God by unsuccessfully trying to improve  His perfection. I do not intend to offend you if you are a woman and have tattoos. I urge women to think before they ink because once the deed is done, there is no turning back except with painful, expensive laser treatments.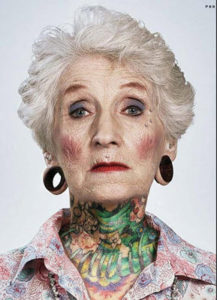 Beautiful or Bizarre?