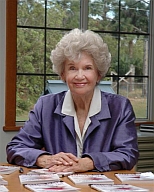 At this time of year, like many of you, I stay busy at the thermostat switching from heat to air conditioning. I'm not whining; actually I laugh at my having to do this. In S.E. Alabama, it is not COLD yet but cool enough in the early morning hours to have some heat for more comfort. A fact that might surprise many is that every four or five years, it SNOWS here…maybe two inches.
When I think how easy it is now to be comfortable, I am reminded of my early years growing up on a farm in the Florida Panhandle. There was no thermostat; we had windows that we opened in the summer for fresh air. For warmth in the winter, we had a fireplace that allowed most of the heat to go up the chimney. The wood stove in the kitchen probably provided most of the warmth.
In order to have either of these, my older brothers' evening chores included 'getting the wood in'. As I got older and some family members left home, it became MY job to help with the wood. To start a fire in the stove or fireplace, there had to be 'splinters'; small strips of 'fat' wood that would start to burn quickly. These were placed so air could circulate between the wood strips and the fire would grow. Then another kind of wood was placed over the fire, either short pieces of oak wood for the fireplace and/or 'stovewood' put on the fire in the stove. This was usually pine wood, already dried so it would burn easily.
Before this could happen, several steps of preparation had to be taken. Since there were pine trees all over the woods, two brothers had to 'cut down' a chosen tree, using a 'crosscut' saw. Then the trunk was sawed every 8 or so inches, making short logs. These were then split into several pieces, maybe 2 inches thick. THAT is where I came in; I could help 'stack' the pieces of 'green' wood so the air could dry it. This was done by placing two pieces of wood on opposite ends of two other pieces, leaving space for air to go through the stack as it dried the wood. Otherwise, the wood stove would be almost useless because green wood is difficult to burn.  All this happened at the spot we called the 'woodpile'.
Every country home had a wood stove, a fireplace and a woodpile. This changed later when kerosene stoves became popular. There was an element of danger but the country folks got more accustomed to cooking on a kerosene stove. We STILL had to bring in the split oak logs for the fireplace, as well as the splinters to start the fire.
Later, electric stoves were available to those who had electricity. Women on farms were happy to simply 'turn a knob' and be able to cook. Men were happy because they no longer had to cut trees down with a saw to make it ready to use in the woodstove.
The old saying of 'time changes everything' is true. Time has certainly changed the work of the 'olden days' and made life easier and better for all.
————————————————–
83-year-old  Lura Zerick is the mother of 5 adults, grandmother of 12 and great-grandmother of 7. She was born and raised in the Florida Panhandle. After living in Miami, Atlanta, Tampa and other cities, she now lives on six acres of woods in S.E. Alabama, near Geneva.
 Lura has been involved in writing since 1965. Her freelance articles are  published in regional and national magazines. She has authored five books:  Who Do You Think You Are? (1989), The Golden Olden Days, (2002), Getting Older and Enjoying It!, 2004, (This book was one of three chosen across the USA to be featured in an article written by Donna Childress and published by the National Council on Aging in Washington, D.C. in the Fall/Winter issue of their publication, INNOVATIONS.) River Villa, 2007 and The House of Esther, 2011.
Lura has composed lyrics and music of 70 gospel songs and recorded 15 songs on 2 CDs. She continued to sing until age 80 and does now occasionally. She sang show tunes and popular songs previously in nightclubs, a cruise ship, with several  TV guest spots.
She wrote and produced a weekly, then daily, radio program, Encouragement for Today's Woman; edited and published Living with Hope, a quarterly newsletter using the writings of women across America; co-hosted a 2-hour weekly radio program, The Saturday Morning Show; participated in and co-produced a Sunday afternoon gospel music radio program.
Lura was Executive Editor of a regional magazine, Grassroots South; Editor's Assistant for an international publication, Journal of Marital & Family Therapy;  wrote a newspaper column, Encouragement for Today and wrote features and news articles for various newspapers. Her articles have been published in Alabama Living, SpiritLed Woman, Just Between Us, Writer's Digest, Mature Living, Christian Single, Army Flier, Army Times, Looking Back and other publications.
Previously very active with speaking dates and book signings across the country, Lura is currently working on three books: Bible Quest, Feeding Our Spiritual Selves and Another Woman; Another Well, the story of her life.  She has many national/international radio phone interviews regarding her books.
 As a survivor of years of domestic violence, Lura had no idea that her best and most rewarding  years were in the future!