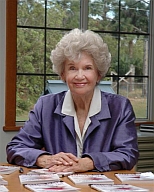 At times I have thought that some people are strange but it is possible that I also have my strange moments. For instance, I can be in a huge supermarket (or Supercenter) and I can't think of a thing that I want to buy for my meals. Here I am, surrounded by food, and nothing comes to mind. No, that isn't totally true; I can ALWAYS eat shredded wheat (the bales, not the bites) and certain flavors of ice cream.
I am smart enough to know that those two items don't give me all the vitamins and minerals that I need to enjoy good health. Still, I am in good health at 84 and I don't WANT anything else. I have enjoyed cooking and baking all my life and yes, I miss preparing meals for my family. I am thankful that I can still cook anything I want. Again, the problem is that I don't want other things. Even though I have always enjoyed vegetables and salads, I don't want these all the time. All I want, at any time of day, is two bales of shredded wheat with milk and sugar. This is also the only time I use sugar unless I am baking, which is seldom these days.
Occasionally a friend takes me to lunch, where we go to our favorite 'home-cooking' place. Then I have a regular meal, with one meat and at least two vegetables. It is almost like 'going to Mama's house' and eating; that is why I like their food. I realize that I, too, can do 'home cooking' but it isn't as much pleasure to prepare meals just for me. I have other foods to choose from but none of these appeal to me. The only sure thing I will enjoy is a bowl of shredded wheat.
I also like peanut butter in any form BUT the last ice cream I bought (two weeks ago), called 'peanut butter brownie sensation' there was NOT even a taste of peanut butter in it. Plenty of chocolate but not a dab of peanut butter! Whoever was to add peanut butter fell down on the job. THAT is why the 3/4 full half gallon is still in my freezer….there is no peanut butter in it. If I had wanted chocolate, I would have bought it; I wanted peanut butter and didn't get it. So I will be hesitant to buy another half gallon; I don't want to find another with no peanut butter. Sadly, that is the only brand that I know of that includes 'peanut butter' flavor.
I might have to bring out my ice cream freezer and make my own. In fact, that sounds like a good idea! My Mama always said, "If you want something done, do it yourself!" HA! I can add all the peanut butter I want! Actually, if I am MAKING ice cream, I really like MANGO, using fresh mangos. DELICIOUS !!!
Of course, the bowl (or two?) of ice cream will be enjoyed AFTER my bowl of shredded wheat!
——————————————————————————
 84-year-old  Lura Zerick is the mother of 5 adults, grandmother of 12 and great-grandmother of 7. She was born and raised in the Florida Panhandle. After living in Miami, Atlanta, Tampa and other cities, she now lives on six acres of woods in S.E. Alabama, near Geneva.