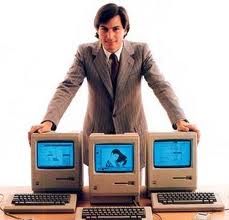 The premature passing of Steve Jobs was clearly a profound tragedy but we can use it to take to heart some of the wisdom he lived his life by and possibly improve our own life.
Here are some quotes from Steve that truly hit home as to some of the central reasons why we are on this planet. Remember, he was born out of wedlock, put up for adoption, dropped out of college, fired from the company he founded, and still, he changed the world.
What's your excuse?"
 "Your time is limited, so don't waste it living someone else's life. Don't be trapped by dogma – which is living with the results of other people's thinking. Don't let the noise of others' opinions drown out your own inner voice. And most important, have the courage to follow your heart and intuition. They somehow already know what you truly want to become. Everything else is secondary."
"When I was 17, I read a quote that went something like: 'If you live each day as if it was your last, someday you'll most certainly be right.' It made an impression on me, and since then, for the past 33 years, I have looked in the mirror every morning and asked myself: 'If today were the last day of my life, would I want to do what I am about to do today?' And whenever the answer has been 'No' for too many days in a row, I know I need to change something."
"Your work is going to fill a large part of your life, and the only way to be truly satisfied is to do what you believe is great work. And the only way to do great work is to love what you do. If you haven't found it yet, keep looking. Don't settle. As with all matters of the heart, you'll know when you find it. And, like any great relationship, it just gets better and better as the years roll on. So keep looking until you find it. Don't settle."
As I think about the Occupy Wall Street  protestors, I doubt that Steve would have participated. He was too busy occupying his life to waste time protesting the system that allowed him to prosper and create technology we use to make our lives better.