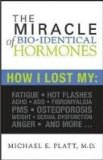 Reviewed By:  Dana Reed-Kane, PharmD, FIACP, FACA, FCP, NFPPhC  
This book has it all! From menopause to andropause, children to adults, breast cancer to prostate cancer, and much more. Dr. Platt is a physician who understands the importance of achieving hormone balance in relation to the quality of life, aging, illness, weight management and optimum health. His book is easy to read and filled with remarkable real life patient histories and case studies documenting dramatic results from achieving a balance with bio-identical hormones. You will find information in this book on the benefits and rationale surrounding the use of progesterone that you won't find anywhere else. His explanations based on his clinical experience, knowledge about the mechanisms of action, and indications for the use of progesterone in women, men and children are brilliant.
It is definitely written for the lay public, and is a book that you can recommend to all of your patients because it is so easy to understand and so hard to put down. Your patients will have no doubt about the benefits of bio-identical hormones in women and men after reading this book. Dr. Platt loves progesterone and he does an excellent job in explaining its indications, This is the first book I have seen which discusses the use of progesterone in men, as well as the relationship between estrogen dominance and prostate cancer. This is also the first book that I have seen which discusses the use of progesterone in children for ADD, ADHD and insulin resistance. Dr. Platt uses progesterone for numerous indications including weight loss, diabetes, insulin resistance, post-partum depression, infertility, ADD, ADHD, migraines, fibromyalgia, osteoporosis,  and more. He also discusses the use of estrogen, DHEA, testosterone, thyroid, and growth hormone..
Dr. Platt has an amazing approach to weight loss. He doesn't promote any popular diet method, he simply educates his patients about diet and metabolism, how and what to eat, and the importance of hormone balance. He also does an excellent job in explaining how numerous popular medications on the market cause weight gain.
Dr. Platt is a minimalist when it comes to medications. His goal is to bring the body into hormonal balance and be on the lowest dose and least amount of medications and/or hormones necessary. His philosophy is simple: "Every system in the body is controlled by hormones. When hormones are out of balance, health problems occur."