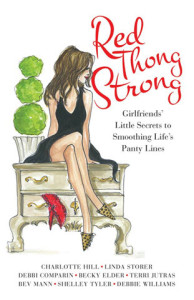 A quick glance at the title, Red Thong Strong: Girlfriends' Little Secrets to Smoothing Life's Panty Lines might lead you to fantasize you are about to read something sexy, steamy, or scandalous.
Actually, what you will find is a heartwarming account of the beauty of  lifelong friendships between eight sassy Texas boomer women who bring out the best in each other. I loved the "little secrets" the Girlfriends share. There isn't anything they don't know or have not experienced that create life's annoying panty lines,  and they know how to smooth them out, whether related to love, marriage, health, beauty, food, fashion, family, attitude or just everyday life.  It's a treasure trove of wit, wisdom, common sense advice,  and yes,  the girlfriends  give you  their permission to go ahead and wear a thong, but they caution, "If things are not going your way, don't get your thong in a tangle."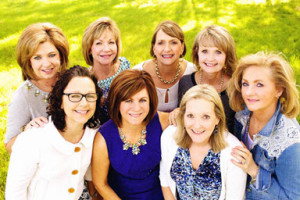 What really makes this book so special is the reality that authentic long term friendships can and do stay alive and thrive in our current throw-away, move-on culture. Facebook "friends" come and go, friends at work are transient,  but lasting friendships are rare and to be treasured and nurtured. Read their book and learn the Girlfriend's special secrets you can use to enhance and improve the quality of your own life and relationships. Definitely two thumbs up.