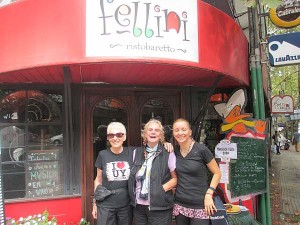 Almost two years ago, I wrote a few articles for Put Old On Hold Magazine, at the beginning of my second, solo, Around The World backpacking trek, this time going from east to west throughout the Southern Hemisphere. My article writing fell away because of the Wi-Fi irregularities' effect on regular deadlines. I did complete that circle after fourteen months; spent five weeks with my family in Colorado; and then came to South America.
Yesterday, I flew to Lima, Peru, after five wonderful months in Montevideo, Uruguay, as an enthusiastic expat. Now, I intend to sample the same in Peru, Ecuador, Panama, Costa Rica, Nicaragua and Mexico. So, instead of a planet-engulfing circle, I'm tracing straight lines-ish in South and Central America.
Because I'm 76 and love to admit it, but not to fit the stereotype….in fact, to blatantly fly in its face; I have now been proposed as a possible candidate for my own Reality TV Show!!! A Producer friend of mine will present the plan in June, when the industry selects its new shows. This is truly a shot in the dark, but it has "cleared my mind wonderfully," just as they say about the guillotine. My long-range independent, travel…. on a social security budget, sleeping in hostel dorms, riding public transport with a backpack in foreign countries where I have no language skills…will be the basic pitch… but I eventually want to broaden the base and showcase those of us who also have our own quirky way of being the Energizer Bunny. I don't believe this is being done in the media, at all; and I'd like to blow the cover off.
Here's the best, stretchy-sided plan I could come up with and I'd like to recruit all of Y'all to help me tinker with the idea and to find qualified individuals. Barbara Morris, (Editor of Put Old On Hold Magazine), you sent me an email, just now, about Barbara E. Joe, 76, relentless, faithful, medical volunteer in Honduras. Yesterday, on the plane between Montevideo and Lima, I read an in-flight magazine article about a late-seventies-aged liver transplant patient, Raul Guarro. of San Juan, Argentina, winning gold medals in track events all over South America; as well as being the first transplant to cross the Andes on a mule.
Okay, two days in a row…two clones, like me! We do different things….but we do them in the same way! Determinedly! Year after year. And we don't age! Very much.
That makes three of us! There must be more! Will you make the Put Old On Hold Magazine a repository for clues to this hidden, worldwide population? People! Will you report these stereotype-busters, please? Then, IF the television show comes through, we'll have somewhere to start….maybe, after it's established in the original format with which it's being pitched. But, this globe-encircling plan could happen even if there isn't any show. If we can get the idea organized, it will make its own news.
In 2005, I failed to talk Guinness Book of World Records into opening a category of Oldest, Solo, Around The World Backpacker, when I was just a kid of 68, setting out on my first RTW junket, which took a year around the Northern Hemisphere. Their reason for turning me down had something to do with a lack of potential competition. There's that stereotype, again! I didn't bother them on my second successful circumambulation at age 74; but I have at least one more RTW in me and I aspire to celebrate my 80th birthday going for their gold, somewhere out on the Equatorial Trail. That gives me just three years to pull this idea together.
How 'bout it, Folks? Can we field some competition? I'll bet there'd be Sponsors, even! Say, if your Social Security doesn't stretch that far. Especially, if we have a TV Show going on! Wouldn't this be the wackiest international road race you could ever think of? And this sort of a race doesn't have to be all run in a pack, together. Once Guinness opens the category (our first challenge); then, anybody, throughout all time, can aim for the title, one by one.
I love it because it's so terribly funny! But, serious! And we don't have to go FAST…just oldest! In fact, SLOW is better because it takes longer. We'd each do it with our own little frills and furbelows, personality traits and special causes to promote. And you don't have to WEAR your backpack….just strap it to your walker or push it in a baby stroller. Be creative! And you don't have to WALK. Just ride a mule or a bus, or a plane. And stay out longer than the last champion! How hard can that be?
Linda J. Brown
rtwsenior@aol.com
www.heyboomers. com
www.insecretdiffusion.com