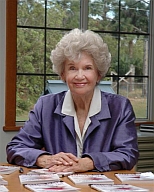 I recently relocated to my daughter's home in Bradenton, Florida, where I will live until I MUST go into Assisted Living. Her home is comfortable and I am enjoying the spare bedroom. What really catches my attention, though, is her screened back porch. This area, approximately 10' X 45', looks out on the back yard, which not only gives a 'woods' effect, but includes a gardenia bush, now in full bloom and nearly 10 feet tall. The soft scent makes my coffee even more enjoyable.
Whatever I am thinking over, whether to have another cup of coffee or the idea for an article – or a new book – I can consider it better on the back porch. The area is comfortable, soothing and a pleasant place to sit and enjoy whatever you prefer.
At the left end of this beautiful area is a table with six chairs. Whenever there are guests, a meal is enjoyed here, giving the thought of a 'picnic' rather than a regular 'inside' meal.  There are two comfortable 'wing chairs' to use at will. A long table near the front 'wall' holds several plants, adding to the 'outdoorsy' scene. A screen door leads outside to the yard. On the other end of this wonderful porch is a hammock, for those who prefer to hang there in solitude rather than look at the greenery.
Of course, this back porch is my favorite area to sit and contemplate my future, sip my coffee or read a new book on my recently acquired 'tablet'. I had reached the point of being unable to read well, which, for me, is a terrible place. My vision has recently failed, very quickly, it seems. I would prefer not to eat, rather than not to see well. My daughter knew what to do; she adjusted the print size on my tablet and NOW I AM READING AGAIN!!!  I have read five books each week for several years. I refuse to learn how to 'twiddle my thumbs', so I was upset about not being able to read. Few things really upset me, so I am very thankful for my daughter's help in making it possible for me to read again.
Problem solved; now I can read a book, which she installs on the tablet, in maybe two days. I AM SO GLAD!!!     At my age, reading certainly helps my days to be more rewarding and pleasant.  I am thankful that I am mobile, able to do many things but still needing to be around others who care about me.  I am hoping to book speaking dates to senior groups, as I encourage them to stay active as long as their health allows. Then I have the book signings, often at libraries, where I share information about my latest books. Life is good and I am thankful.
© Copyright Lura Zerick June 2017
——————————————————————————–
86-year-old  Lura Zerick is the mother of 5 adults, grandmother of 12 and great-grandmother of 7.  Lura has been involved in writing since 1965. Her freelance articles are  published in regional and national magazines. She has authored five books.