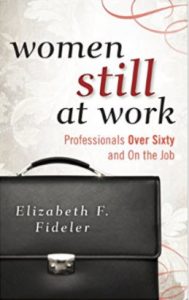 I often think we live in a culture that worships decline. As advanced as we are in our attitudes and beliefs about many subjects, we stick like glue to antediluvian thinking when it comes to "old people". It is expected  that once  age 65 is reached,  life is downhill until the end.  It is assumed "that's the way it is" and nothing can be done about it. How tragic. We refuse to believe that institutionalized retirement and the decline oriented mindset and lifestyle that goes with it, has anything to do with rapid and certain decline of older people.  Enough already!
What a superb, motivating book this is! Dr. Fideler provides inspiring stories of women who decided late in life to make the most of their lives in new careers and be of value and service to others.
It is unfortunate when healthy, educated, gifted women with so much to offer, decide to retire into the traditional senior lifestyle, only because it's the culturally mandated "thing to do". If you are an older woman who wants and needs motivation to finally do what you always wanted to do with your life, this book will give you "permission" to thumb your nose at outdated tradition and encourage you to get on with living the life you always wanted. It's not too late! Get it here.
You will also be interested in Dr. Fideler's upcoming informative and inspirational work: Margaret Pearmain Welch (1893–1984) – A Proper Bostonian, Activist, Pacifist, Reformer, Preservationist