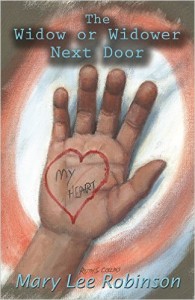 According to Mary Lee Robinson, author, 50% of happily married couples will become The Widow or Widower Next Door. Mary Lee joined that 50% in February 2013.
Her story is one of many in the book. They had just relocated 11 months prior to their brand new home in the Low Country of the Carolinas. Her husband suffered a massive cerebral hemorrhage and was gone at age 63. She hit the wall of loneliness and grieving at 90 mph. It was startling not only to her, but to the other story tellers that most people don't have the faintest idea what to do for the bereaved. Strangers can be very kind, and familiar folks can be downright cruel.
Grief is very poorly understood and not tolerated well in our culture.
It was also evident to her that she was going to have to build her own life raft and she started an online widow and widowers club. The club offered a variety of events and activities in the area with others who were suddenly alone. Within a year, in a town of 30,000 residents, they had 170 members. That should speak volumes about an unmet need.
Together twenty five of the widows and widowers wrote the only book we know of, about losing a mate in today's world that is authored by a group of "wids." They answered twenty five questions about what helps, what hurts. Mary Lee's Pastor (a remarried widower himself) and her Grief Counselor got behind the project and made contributions of their own.
Mary Lee states; "In today's world we go to pre-school to prepare for first grade. We have to study for and test to receive a driver's license.  We attend marital counseling to prepare for marriage. There are no classes offered in advance to prepare us for dealing with the death of a spouse. There is no instruction of any kind for either widows or widowers or those that care about them."
It is the "wids" fervent hope that they can debunk some of the myths and misconceptions. They hope to educate those who have not known loss that the attitude of "It's been 48 hrs. You're OK now, right?" is not the way it works for the grieving. It seems society cares more about whales and sea turtles than the "wids" right next door!
Speaking about grief should be not be more taboo than talking about sex, especially once you learn that "talking about it" is one of the most healing things a griever can do.