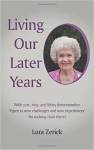 No matter your age, you can live a more fulfilling, interesting and exciting life. Maybe all that's needed is a little encouragement, and that's exactly what Lura Zerick offers in her new book, Living Our Later Years. It is filled with life lessons and encouragement and should be a "must read" in all retirement communities, especially where "doing nothing" is the standard lifestyle.
Lura provides great advice: If you have given up on a better life just because you've reached a certain age, it's time to take control again. Don't stop moving, and don't stop dreaming of a new chapter in your life. There are still many wonderful and productive years ahead if you are willing to grab the bull by the horns. Be bold and see what you can accomplish. You will never know unless you try.
Lura used to dread each day, and she knew that was no way to live her life. Now she shares her enthusiasm for her new life with tips, quips and lots of humor. She lives a life filled with challenge and a sense of achievement. Thanks to her new attitude and outlook, she's enjoying the best years of her life. She greets each morning with the thought that something wonderful is about to happen. She believes we all need goals to inspire us to our best lives.
When I last corresponded with Lura she had a book signing at Barnes and Noble and TV appearance lined up to promote her book — on the same day. She says, "I'm not good at twiddling my thumbs."
Now 83, Lura still hasn't learned the meaning of the words -"quit" or "can't". When not baking for her 12 grandchildren or eight great grandchildren, she is studying online to complete her BA in biblical studies. She lives on six acres in the Alabama woods.