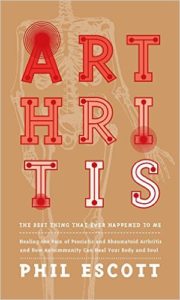 Arthritis – The Best Thing That Ever Happened to Me… (Healing The Pain Of Psoriatic And Rheumatoid Arthritis And How Autoimmunity Can Heal Your Body And Soul) is about reversing inflammatory arthritis, even when doctors say it's impossible. Author Phil Escott posits that comprehensive changes in diet, along with correcting many other disconnects from our genetic blueprint, once addressed, allow the body to heal itself as it is designed to do.
The book covers the author's story of the onset of symptoms, the despair and pain that followed;  the frustrations with the doctors' ineffective chemical approaches, and finally finding success through diet, lifestyle and emotional balancing. There are laughs and a wealth of practical advice on subjects seldom touched upon such as detoxing, the mistake of raw veganism, and then success through a ketogenic diet, cold thermogenesis, circadian rhythms and delving into the real root causes – our myriad ways of not loving ourselves or our circumstances, which eventually manifests in disease.  It's a tale of discovery, failures, successes, awakenings and ultimate surrender.
From the foreword by well-known neurosurgeon, Dr. Jack Kruse:
"Like us all, Phil ascribed to the precepts of what could bring him health, and he found that most of what he was told enriched others but just left him more broken. The medicine man's chronic wallet biopsies did not bring him solace, but discomfort. Instead of viewing that stress as a misfortune, he used that  discomfort to innovate a change in himself by changing his priorities … What is the take home message from Phil? Humans are not broken, but the environment they have built is ruining them."
The drug treatment of choice for psoriatic arthritis is Humira which has some potentially devastating side effects. Anyone suffering with the condition would do well to read this little gem. It has many well deserved  5-star reviews on Amazon.
---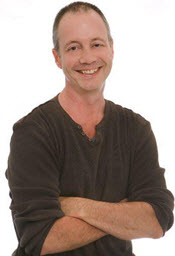 Phil Escott has been writing for as long as he can remember. Unlike drumming, his other passion, which has always taken perseverance, writing was always effortless. He has written for many printed and online publications on such diverse subjects as travel, diet, health, weight training, mountain biking, motorcycling, carp fishing and spirituality/nonduality, and he has used his pedantic tendencies to proofread a national magazine every month and many books for other authors. For more information Visit his website here