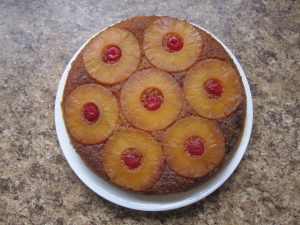 Years ago I made the cake from 'scratch', meaning that I put
together the ingredients, BUT the finished cake was heavy, even though it tasted good. Anyway, then I started using Duncan Hines Yellow (or if it says butter in the title) cake mix, for the dough, according to directions on the box. The cake is light and 'fluffy'. BEFORE I DO THAT, I PREPARE THE IRON SKILLET THAT I BAKE IT IN (9 OR 10″).
FIRST I SPREAD MELTED BUTTER ON BOTTOM AND SIDES OF SKILLET (WITH MY CLEAN FINGERS). Then I spread brown sugar on bottom and sides of skillet. My family likes a lot of brown sugar! Then I place the pineapple slices on the bottom, with a cherry in the center of each. Pour the mixed dough on top of the slices. Jiggle skillet to get air bubbles to the top, then break these.Bake in 350 degree oven til golden brown. After removing from oven, let set a few minutes. I go around the edge of the skillet with a knife, so it can be removed more easily.Then turn upside down onto a plate. There it is.