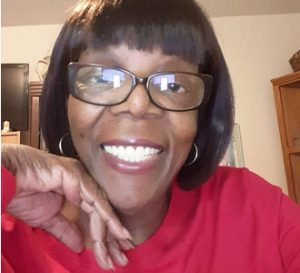 At 74, Zenobia has little time to reflect on her past, which could fill many books. Raising six children as a single mother, Zenobia continued to write plays and poetry. Later on, she got involved with the Loft Literary Center in Minneapolis, organized a journal-writing class, obtained a minister's license, wrote her memoir, and participated in the Extraordinary History Project. This program pairs older people with professional writers.
Zenobia refers to her life as a "continually changing journey." Her accomplishments as a writer and author are even more impressive, considering much of what she has achieved she did while living with vision loss. Her love for the written word comes from the joy she gets from talking to new people and learning their own stories.
As a resident of a senior living facility, Zenobia accepted a job as an event coordinator at her retirement community so that she could continue to socialize and meet others. "It was a dream job for me. I was helping people stay active and engaged." However, a few years into her new role, Zenobia noticed that her vision was becoming increasingly blurred. She first tried using reading glasses, working her way up to the most powerful magnification levels, and later experimenting with lighting in her office to see her computer screen, nothing helped. "I was panicked and started thinking that I wouldn't be able to read, write, or work anymore as my vision worsened," said Zenobia. She was eventually diagnosed with cataracts in both eyes.
She began treatment when told that her condition had progressed with no guarantee that her sight would improve, even with continued medical intervention. "I battled with depression briefly but immediately knew that this would be another journey in my life, so I began preparing for ways to accomplish still what I wanted to do, but with less vision."
Zenobia remembered hearing about Hadley, founded as a correspondence school providing braille lessons by mail. Today, Hadley, a 501(c)(3) non-profit organization, is the nation's leader in online help for visually impaired adults from all 50 states and more than 100 countries. With hundreds of workshops on a wide variety of practical topics, Hadley's online portal, Hadley.edu, has already registered more than 100,000 workshops engagements since launching in July of 2020.  The platform was built on months of research into visually impaired adults' needs, wants, and desires, and everything is available at no cost.
With the onset of COVID-19, Zenobia's event coordinator job was put on hold. Instead, she opted to work in the retirement community's general store serving residents by packing and delivering groceries and other items. Zenobia used her time in quarantine researching resources to help with her low vision challenges when she came across Hadley's website. "I am amazed how much Hadley offers for people like me, who aren't completely blind but trying to navigate life with limited vision," she continued. "There were discussion groups all about writing, workshops and tips on adjusting fonts, colors and contrast on my computer, and more. I was able to start reading and writing again."
Zenobia knew she couldn't keep Hadley to herself and began telling other residents struggling with low vision about Hadley's learning resources.
"I moved to Minnesota to start a new life. I received a lot of help from others during my transition. I was even homeless for a while and lived in a community shelter. Once I got back on my feet, I promised myself that I would do everything I could to give back to others. I guess you can say my real passion is showing compassion."
In recognition of her commitment to learning and being an ambassador for Hadley's resources for others with visual impairments, Zenobia received Hadley's HEROES award given to those who help further Hadley's mission to create personalized learning opportunities that empower those with vision loss or blindness.
"I have always been a writer, and a writer has to write. Hadley gave that gift back to me." Zenobia's advice to others who are new to vision loss: "Don't panic, many others are going through what is happening to you. There are wonderful community programs and people in those programs are there to help. If you are visually impaired, reach out to Hadley. it's a great place to start, and never give up on life."