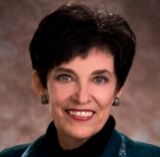 For women "of a certain age", it may be time to rethink our style savvy. It starts with a realistic look in the mirror.  We're still beautiful … but we're beautiful a little differently than we were in our 30's and 40's.  Here are five quick steps to Fabulous …
Reconsider color.  Our hair is losing pigment, and even if we "chemically enhance" it, we usually choose a softer shade.  Our skin and eye colors are softening too – typically making the brighter clothing colors we used to wear look harsh.
Best step: an updated color consultation with a pro.
Interim steps:  Soften your current brighter clothes by replacing a bright-white blouse with light tan or soft gray.  Add a scarf that integrates the garment colors and your hair color for a custom look. Avoid outfits with more light/dark contrast than you see in your own facial color pattern.  Too much contrast pulls all the focus to the garment and away from YOU.  And think long and hard before leaving the house wearing black near your face.
Add an updated shoe and a great looking bag to your wardrobe.  Look for something in a color that relates closely to your hair.  Because you'll wear them most days, they can have a big impact on your look immediately.
Make an appointment for a professional makeup consultation to update your cosmetic colors.  You'll learn contemporary application techniques in the process.
Style your shape. Chances are you've thickened a little through the middle, so choose styles that skim over your body rather than hugging too closely.  Look taller and trimmer by dressing in color columns – matching pant and top with a contrasting jacket (worn open so the eye can follow the vertical color bottom to top).  Or match the pant and jacket, with a pop of color in the shell underneath.
Sneak in some Spandex. Your clothes can only look as good as the undergarments you're wearing.  Start with a professional bra fitting.  Contact your department store for the dates of their next Wacoal Bras fitting event.  Or work with one of the professionals at Soma Intimates – found in malls across the country. The fullest part of your bust should rest half-way between your sternal notch (that little indentation at the base of your neck) and your belly button.  Measure it right now if you need convincing…
Tone up your bottom half with body shaper panty hose. They are a big improvement over old control-top ones that ended their control right in the soft part of your thigh – oops!  These diminish their oomph gradually from waist to toes.  You won't believe how much sleeker you'll look.  Check out Great Shapes TM  on www.NoNonsense.com.
And don't overlook the posture-power of removable foam shoulder pads.  Not the fullback look of old Joan Crawford jackets, but an inconspicuous tool to square off your shoulder line, minimize fuller upper arms, visually lift a low bust, balance any extra bulk lower on your body – they really are magic, despite the fact that you've heard they're "out of fashion".  We're not talking fashion trends here, but rather figure balancing strategies.
Emphasize "eyes-up" accents.  Keep attention focused on your face/eyes/communications with a fresh hairstyle (shorter than chin-level), subtle but polished makeup and accessories like statement earrings, fun necklaces (above bust level) and colorful scarves.
Just say "NO" to these aging duds: 



Sweats.  Sleek new yoga pants and top look much more current.  And that Spandex smoothes your lumps and bumps in the bargain.
Jogging shoes, unless you're actually working out.  Lightweight Keds are a sleek, comfortable alternative that looks a lot more contemporary.
Holiday sweaters (and other themed embellishments) except maybe for Grandparents' Day at pre-school.
Single-strand pearls.  If you love your pearls, layer several varied strands for a fresher look.
Granny undies.  C'mon now … maybe we're 60 but we're not 6 feet under. Treat yourself to something new and pretty.
Gathered or pleated skirts.  A gently tapered slim skirt is more flattering on nearly every figure and size.
Visible elastic waistlines.  If you need flexible fit, be sure the coordinating top is one designed to be worn out-and-over – never tucked in.
Granny jeans.  If you still look good in shapely denim – go for it!  But if you're not so sure, opt for a well-fitted tailored trouser instead.  Microfiber wovens and ponte knits wash like a dream, never need pressing, wear like a tank and look "dressed" with an easy sweater and scarf.  And shoulder pads …
———————————————
For more information on looking your best at any age, any weight, any budget … sign up for my free email newsletter and check out my Style Solutions blog at www.NancyNixRice.com.  It's a years worth of mini-lessons on updating your style and your wardrobe.