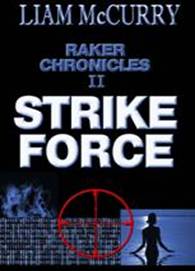 Liam McCurry is a prolific writer of thrillers and  a new one has just been released.
Here's a hint of what happens in Strike Force:

Only the best will do, as Beverly Martin Raker resurrects his former termination team — who will financially bring Pan-Global Assurance to its knees.  Drawing from the smart and fast group he commanded in the past, Raker recruits deadly and trusted international killers in Mexico, Ireland, Italy and Germany to become his Strike Force. One shattering discovery in Geneva involving his wife further drives Raker's fury — and propels his thrust for vengeance.
 go here to get a copy.