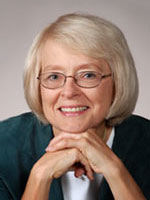 Sometimes, it takes a while to "get it."  I learned that via my two-year old granddaughter's birthday cake a few days ago. 
I've coveted the role of designated birthday cake baker for four years now—ever since her older sister turned one.  But, alas, I am not the only grandma, and I've somehow ended up second in line until this most recent birthday.  So when I got to do this cake, I was ridiculously excited.
I have done plenty of birthday cakes.  I'm from a family of nine; I started making birthday cakes before I was ten.  Plus I made my own kids' cakes.  But my children are sons.  I've done trucks and volcanoes and even manufactured enough fake pies for a birthday pie fight one year.  But I've never had the chance to make a little girl's cake.  I really wanted to make a butterfly cake.
Late last week, I got that chance.  And I went nuts. If you cut a round cake layer in half and then cut each half again on the diagonal so one piece is twice as big as the other, when you lay the four pieces on a tray with the curves on the inside and the small pieces below the big ones–ta da!–you have a butterfly.  Thank you, internet.
But a butterfly needs a body…and a head…and antennae.  I wanted those parts to look more real than the piece of stick candy the original pattern called for.  And the wings had to be beautiful, which meant colored sugars in the perfect hues and assorted sizes of colored candies.
I searched the baking and candy aisles at two grocery stores, the cake decorating section of two craft stores, the candy aisle at Toys R Us (a bonanza—unless you are into childhood nutrition), and the food section of an import store looking for this stuff.  It is not an exaggeration to say I spent more time trying to find the perfect materials for that cake than I did buying a couch.
Eventually, I hit on the idea of shaping pieces of cooked spaghetti into really cool antennae. They hold shape nicely once dry.    (They were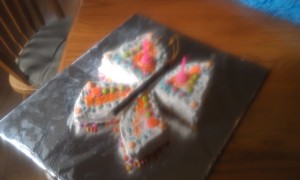 probably the healthiest thing on the cake, too, since it was whole wheat spaghetti.)  I flattened neopolitan coconut candy with a rolling pin and cut circles for the head using an antique bouillon tube my mom kept for cutting donut holes.  By stacking four circles on top of each other, I could secure the antennae and eyes (candy coated, chocolate covered sunflower seeds).
The razzle dazzle, orange sparkly, store-bought decorating sugar looked like cellophane shreds on a trial run, so I de-emphasized that in the "wing design."  I scuttled the sprinkles because the colors were too garish.  I ended up custom dyeing granulated sugar in an attempt to get just the right hues.  For five days, my highest priority was that cake. 
All went well with the baking, frosting, etc.  I sorted candies by color and applied them one small piece at a time with a jeweler's pliers. I put the candy coated sunflower seeds around the base for extra effect.  I added more candy dots on the wings.  I fussed with it.  And fussed with it some more.  I was way past "overboard" by the time I decided I was finished.
And when it was done?   It was….just a cake.  A cake that looked like a butterfly.  A cake that was just a small piece of a fun day for an adorable little girl.  The two pink candles were blown out with wide-eyed innocence.  It tasted fine. 
The cake served its purpose well.  But I felt oddly off balance.  Why I didn't feel better about what I'd spent so much time creating?
Then I finally got it.  The obsession hadn't been about a perfect cake for my granddaughter.  A burst of wild creativity had inundated me once the dam of "permission" had been breached. I didn't need to be a grandma to make that cake.  I just needed to let myself "go play."  I'm happy I got to do Cora's cake, but sad that I waited so long to bake a butterfly. 
I liked being part of helping my granddaughter turn two.  But even better, I will bear no resentment if the other grandma wants to make all the cakes from here on.  She does it well (We've had a ladybug, a sand castle, a princess, and a fairy castle, all beautifully done.)  I don't need "my turn" doing the girls' birthday cakes.  My priority is going to be  nurturing their own creativity.  And to model that by not waiting for permission to indulge in creative play myself.
************
Mary Lloyd is a consultant and speaker and author of Supercharged Retirement: Ditch the Rocking Chair, Trash the Remote, and Do What You Love, a guide for readers to build their own best retirement.  Her first novel, Widow Boy will be out in 2014.  For more, see her website, www.mining-silver.com.