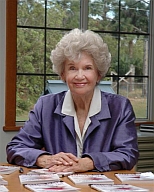 Each of us wants to be independent as long as possible. The key words are "as long as possible'.  We must also realize that there comes a time when we can't be independent any longer. It might be easier for some, but I find it very difficult to be dependent. At the same time, I am thankful there is someone to do the things necessary – when I no longer can.
Being a "do-er", it is not easy to realize that I won't be 'doing' everything much longer. As I near 87, I am aware (I wish I was not) of the list of 'little things' that gave me a sense of independence is getting smaller.  This is difficult but reality hits us in the face.
I move slower but I thank the Lord I am moving. Slower is okay. I still have great ideas; glad that I am open to those.  Several other things have changed. In the past  I enjoyed cooking and baking; now I don't want to cook. Unbelievable !!! I have little appetite; often eat alone, which is no fun.
Because my vision is failing, I can't read several books each week as I did in the past. I seem  to be a misplaced person that few would miss. I still do laundry, shower and dress myself, then I think to myself "Why? You are going anywhere".
I could still get speaking dates but I stopped driving and, again, that 'independence' doesn't want to ask my son to drive me. He would but I don't like to ask. Then again, I think of the many out there who need to hear words of encouragement. I can easily give these but i don't receive any such words. My family seems to tolerate me and whatever idea I have but I still sense that, "Well, Mama, there comes a tine" —- implying, to me anyway, that I should hang it up and just be.
I am not good at 'just being'; I want to use my God-given abilities to urge others on; those who might otherwise, 'just be'. I want to be an example of what I am saying. I'm not going to give advice that I would not follow.
It saddens me when I see people my age simply waiting for the day to end.  Being old doesn't mean we have become stupid. I know for a fact that one can be or act stupid at age 30, 40. 50 or 60. Even in my mid eighties, I get new ideas…and am thankful for them.
One of my latest – and I think best – is to publish a weekly "Letter from Lura", filled with encouraging words to those of all ages. Everyone needs to be urged on, encouraged to be the person she (or he) was meant to be.
Editor's note: Many older readers are inspired by Lura's "can do" attitude. The comment below was received recently: