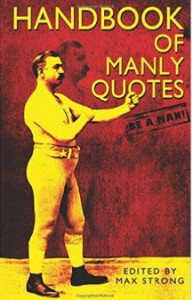 A talk show host was commenting on Millennials and how they have difficulty dealing with life's ups and downs and disappointments. Specifically, the host was explaining that college counselors are overburdened with distraught students who feel they have been slighted, cheated,  or disrespected in some way, or were traumatized by a mouse in a dorm room. Millenials are said to bring their parents to job interviews. In short, they are devoid of coping skills every successful adult needs to navigate the realities of life.
Somebody or something has to help wake up misguided and coddled young people who can't deal with the rigors of growing up. One solution may be as simple as requiring them to read an 86-page book titled Handbook of Manly Quotes: Be a Man! edited by Max Strong. The book is divided into twenty sections containing inspiring quotes of famous people dealing with  everything from Hard Work and Perseverance to Politics.
Here just a few quotes that would well serve everyone, young and not so young,  if they choose to think about them and incorporate them into their thinking and behaviors:
The coward is the one who lets his f ear overcome his sense of duty. Duty is the essence of mankind — George S. Patton 
A man must be big enough to admit his mistakes, smart enough to profit from them, and strong enough to correct them — John C. Maxwell 
Being the richest man in the cemetery doesn't matter to me. Going to bed at night and saying we've done something wonderful, that's what matters to me — Steve Jobs
Failure is simply the opportunity to begin again, this time more intelligently — Henry Ford
The quotes will benefit not only men, but women and children, and I will go out on a limb and suggest this little gem should be required reading at every stage of the education experience — from elementary school through college. It's that worthwhile. I know that's not going to happen so it's up to parents, grandparents and pastors to make the Handbook of Manly Quotes: Be A Man! available to those in their charge. What a great opportunity for parents and grandparents to connect with their kids and grand kids as they impart much needed wisdom, guidance and inspiration that youngsters may not get anyplace else. A great alternative to boring bedtime fairy tales.