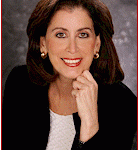 GREET! EAT! TWEET!
by Barbara Pachter
Reviewed by Barbara Morris
++++++++
If you are intent on advancing your career, GREET! EAT! TWEET!: 52 Business Etiquette Postings To Avoid Pitfalls & Boost Your Career is the ticket. Author Barbara Pachter is an experienced and persuasive communicator whose words of wisdom are powerful and packed with common sense punch. This little gem is succinct, to the point, with no wasted words. Easy to read super short meaty chapters take less than one minute each to read allowing the reader to absorb and reflect on thought provoking content.
My favorite is chapter is "Button That Shirt and Cover That Thigh". When I read that chapter I found myself cheering the author's courage to speak up about appropriate business attire. If you are tired of viewing tasteless "anchor cleavage" or bare "cottage cheese thighs" on female TV personalities or guests, you will cheer as well. Just because something is "in style" doesn't mean it's suitable for everyone for every occasion.
The chapters dealing with the "do's, don'ts and pitfalls" of social networking sites are indispensable whether you are a seasoned pro or just getting your feet wet. I learned things that made me think, "Wow! I'm glad to know that before I do any more social networking!"
GREET! EAT! TWEET! should be required reading in every employee training program to insure workplace harmony and success. And because business and achievement-oriented behaviors generally are not included in most curricula, I'd like to see a copy handed out at every high school and college graduation along with the diploma. It's that valuable.
Barbara Pachter is the author of eight books designed to help people present themselves more professionally in today's business world. Find her helpful books here: http://www.pachter.com/resource_materials.htm and be inspired by her blog: http://www.barbarapachtersblog.com/ that is full of truly helpful tips for business people.
Her website is http://www.pachter.com Subscribe to her "Competitive Edge" newsletter. http://www.pachter.com/business_training_e-newsletter.html