Vitamin D deficiency linked more closely to diabetes than obesity *** Antibiotics give rise to new communities of harmful bacteria *** Your privacy online: Health information at serious risk of abuse, researchers warn *** Sauna use associated with reduced risk of cardiac, all-cause mortality *** Unexpected outcomes for elderly couples who stop driving *** Sleeping over 8 hours a day associated with greater risk of stroke *** Widely used food additives promotes colitis, obesity and metabolic syndrome, shows study of emulsifiers *** Oat breakfast cereals may contain a common mold-related toxin *** Marijuana: The allergen you never knew existed *** Diet soda linked to increases in belly fat in older adults *** Hydrocodone Rescheduling Hinders Pain Patient Access *** Acid from wine tasting can soften teeth 'within minutes'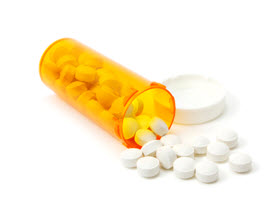 Antibiotics give rise to new communities of harmful bacteria
Most people have taken an antibiotic to treat a bacterial infection. Now researchers reveal that the way we often think about antibiotics — as straightforward killing machines — needs to be revised.
Vitamin D deficiency linked more closely to diabetes than obesity
People who have low levels of vitamin D are more likely to have diabetes, regardless of how much they weigh, according to a new study. Vitamin D helps the body absorb calcium and maintain bone and muscle health. The skin naturally produces this vitamin after exposure to sunlight. People also absorb smaller amounts of the vitamin through foods, such as milk fortified with vitamin D. More than 1 billion people worldwide are estimated to have deficient levels of vitamin D due to limited sunshine exposure.
Your privacy online: Health information at serious risk of abuse, researchers warn
There is a significant risk to your privacy whenever you visit a health-related web page, some researchers warn. An analysis of over 80,000 such web pages shows that nine out of ten visits result in personal health information being leaked to third parties, including online advertisers and data brokers.
Sauna use associated with reduced risk of cardiac, all-cause mortality
A sauna may do more than just make you sweat. A new study suggests men who engaged in frequent sauna use had reduced risks of fatal cardiovascular events and all-cause mortality, according to a new article.
3D printed guides can help restore function in damaged nerves
Scientists have succeeded in using a 3-D printed guide to help nerves damaged in traumatic incidents repair themselves. The team used the device to repair nerve damage in animal models and say the method could help treat many types of traumatic injury.
Unexpected outcomes for elderly couples who stop driving
Even if just one member of a couple stops driving, negative consequences result for both the driver and non-driver, a study concludes. The researcher recommends that the elderly and their adult children carefully discuss and plan for the transition to driving cessation.
Sleeping over 8 hours a day associated with greater risk of stroke
People who sleep for more than eight hours a day have an increased risk of stroke, according to a study — and this risk doubles for older people who persistently sleep longer than average. However, the researchers say it is unclear why this association exists and call for further research to explore the link.
Widely used food additives promotes colitis, obesity and metabolic syndrome, shows study of emulsifiers
Emulsifiers, which are added to most processed foods to aid texture and extend shelf life, can alter the gut microbiota composition and localization to induce intestinal inflammation that promotes the development of inflammatory bowel disease and metabolic syndrome, new research shows.
Oat breakfast cereals may contain a common mold-related toxin
Oats are often touted for boosting heart health, but scientists warn that the grain and its products might need closer monitoring for potential mold contamination. They report that some oat-based breakfast cereals in the US contain a mold-related toxin called ochratoxin A that's been linked to kidney cancer in animal studies.
Omega-3 fatty acids, vitamin D may control brain serotonin, affecting behavior and psychiatric disorders
Although essential marine omega-3 fatty acids and vitamin D have been shown to improve cognitive function and behavior in the context of certain brain disorders, the underlying mechanism has been unclear. In a new paper, serotonin is explained as the possible missing link tying together why vitamin D and marine omega-3 fatty acids might ameliorate the symptoms associated with a broad array of brain disorders.
Intimate partners with low self-esteem stay in unhappy relationships
People with low self-esteem are more likely stay in unhappy relationships, suggests new research. Sufferers of low self-esteem tend not to voice relationship complaints with their partner because they fear rejection.
Disease-carrying fleas abound on New York City's rats
In the first study of its kind since the 1920s, rats in New York City were found to carry a flea species capable of transmitting plague pathogens. Among them: 500-plus Oriental rat fleas, notorious for their role in transmitting the bubonic plague, also known as the Black Death.
Marijuana: The allergen you never knew existed
As marijuana's legal status throughout the country continues to change, people should know it can cause allergic reactions.
Marriages more likely to end in divorce when wives get sick
Countless couples have recited the words, 'in sickness and in health' on their wedding day with the intention of honoring those vows. But as it turns out, that may be easier said than done.
 Men tend to be more narcissistic than women, study finds
With three decades of data from more than 475,000 participants, a new study on narcissism reveals that men, on average, are more narcissistic than women.
Excess sitting linked to coronary artery calcification, an early indicator of heart problems
Sitting for many hours per day is associated with increased coronary artery calcification, a marker of subclinical heart disease that can increase the risk of a heart attack, according to research. Coronary artery disease is the most common type of heart disease and the leading cause of death in the United States.
Promising 'natural' Alzheimer's treatment moves toward clinical trials
A promising new natural treatment for Alzheimer's disease is moving toward clinical trials. This will be a major step forward as there is nothing on the market that slows the progression of Alzheimer's; natural products chemist has patented a botanical compound, withanamides.
Age-related discrimination can add to healthcare woes
Discrimination by doctors or hospitals can make older patients even sicker, researchers report. A national survey shows that one in every three older Americans who are on the receiving end of age-related discrimination in the healthcare setting will likely develop new or worsened functional ailments in due course.
How cannabis use affects people with Bipolar Disorder
The first study to examine the use of cannabis in the context of daily life among people with Bipolar Disorder has shown how the drug is linked to increases in both manic and depressive symptoms.
Recommendation for vitamin D intake was miscalculated, is far too low, experts say
Researchers are challenging the intake of vitamin D recommended by the National Academy of Sciences Institute of Medicine saying their Recommended Dietary Allowance for vitamin D underestimates the need by a factor of ten.
Diet soda linked to increases in belly fat in older adults
Increasing diet soda intake is directly linked to greater abdominal obesity in adults 65 years of age and older. Findings raise concerns about the safety of chronic diet soda consumption, which may increase belly fat and contribute to greater risk of metabolic syndrome and cardiovascular diseases.
Are antipsychotic drugs more dangerous to dementia patients than we think?
Drugs aimed at quelling the behavior problems of dementia patients may also hasten their deaths more than previously realized, a new study finds. The research adds more troubling evidence to the case against antipsychotic drugs as a treatment for the delusions, hallucinations, agitation and aggression that many people with Alzheimer's disease and other dementias experience.
Low vitamin D predicts more severe strokes, poor health post-stroke
Stroke patients with low vitamin D levels were found to be more likely than those with normal vitamin D levels to suffer severe strokes and have poor health months after stroke, according to new research.
Hydrocodone Rescheduling Hinders Pain Patient Access
National Fibromyalgia & Chronic Pain Association conducted an online survey of pain patients to assess the effects of this rescheduling at the patient level.
The survey's key findings included: • Approximately two-thirds of respondents were unable to access hydrocodone products, with some doctors refusing to prescribe hydrocodone to those who had been taking it at the same dose for years. • More than 15% of the respondents reported strains in their relationships with their doctors. • A number of respondents reported an increased financial burden as a result of more frequent doctor visits, greater transportation expenses for those visits, higher medication co-pays, and lost income related to inability to work due to pain. • 27% of respondents reported suicidal thoughts due to being denied their hydrocodone prescriptions.
Changing how rice is cooked could cut calories
A novel cooking and cooling process for rice could help slash the number of calories absorbed by the body by more than half by increasing levels of resistant starch, say researchers.
Acid from wine tasting can soften teeth 'within minutes'
Researchers from the University of Adelaide have discovered that the acid in wine can make teeth vulnerable to erosion within just minutes.
Testosterone needs estrogen's help to inhibit depression
In popular culture, the phrase "battle of the sexes" seems to pit the male hormone (testosterone) against the female (estrogen). Now a researcher has documented a way in which the two hormones work together to protect low-testosterone males from the effects of anxiety and depression.