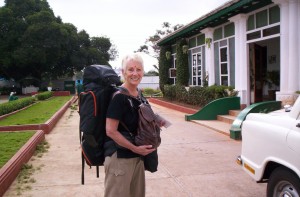 I am three weeks into my stay at the Waya LaiLai Ecohaven on Waya LaiLai island in the Yasawa island chain of Fiji. A radio with lovely Fijian music is playing in this gorgeous dining hall just off the beach and all my friends are circulating somewhere around. Perhaps a Kava Ceremony is going on with everyone sitting on a grass mat drinking the spiritual offering of the kava root. That is a very bonding experience. 
Just across the channel where, last week, we excitedly watched a large pod of whales chasing their krill and blowing spouts of water in the air, is Kurta island where part of Castaways was filmed. My beautiful guest house (bure') has a wide porch overlooking sea grapes, palms and more lush greenery than I can name. A few steps lead past inviting hammocks to a clean sand beach and the fabled South Pacific turquoise water which we all dream of from every office cubicle in the world. It's the stuff of calendar eat-your-heart-out photos. I lie in hammocks a lot right in the middle all this paradise. Shells, coral reefs and little friendly sharks (which you can even pet) are readily available. Haven't seen a mermaid yet, other than my fellow guests at this great resort.  
I'm taking a break from hostel life, though all the advantages of a constantly-changing population of interesting people still prevails. And the best part, is that I've practically become Fijian, having been wholeheartedly adopted by the nearby village which has owned and run this resort for seventeen years. They gave me such a blowout 75th birthday party a few days ago that now I know how royalty feels. Every Sunday I go to church in their village and love this rare glimpse of the spiritual life they lead every day, but express so beautifully in song and prayer on this true day of rest for all Fijians. 
I'll never learn the rolling sounds of the Fijian language but I sure could dance to all the music. My alarm clock and watch bit the dust and I have gone into Fiji Time, responding only to the call of the Talking Drum which summons us to three meals a day and afternoon tea. I wake up with the sun and sleep when it disappears…..both accompanied by spectacular sun washes of color all over the sky. There's a tall mountain peak looming right over the resort, which I plan to summit very soon. Birds are my alarm clock and one little black one with an injured foot scolds me loudly when I don't provide enough bread or crackers brought from my latest meal. Sleep is ocean deep with waves lapping on the private beach just below my little Fijian house. Stars are in unfamiliar array in this Southern Hemisphere but I love them like this, with the International Space Station shining somewhere deep in the inky black wee of the morning. We must be directly under its path and it shines like a little sun with solar reflection. A new and circulating Star of Bethlehem. 
Here is luxury on a shoestring with the friendliest, most-loving staff on the planet. Wednesday nights are Fiji Night with traditional food cooked for hours in an underground oven. To die for! After dinner dancers in grass skirts and leis put on a traditional show and then pull the guests out to join in with dancing,  and wacky games and silly competitions. No one here stays a stranger very long. And they sing for us all the time with guitars, ukeles, and their famous harmony. Oh, the Fijian music!!! It makes my heart swoon! 
When I made the reservation, I had ordered a bed in a dorm but they upgraded me, at no extra expense since it was the slow season, to a whole private bure' with a double bed and a twin bed and a living room arrangement and ensuite bathroom/shower. My costs are about $60 U.S. dollars a day and that includes three gargantuan meals. Normally, it's more for the private house, but that gives you an idea of how one can luck out here in this open-hearted, loving country of Fiji. There are even direct flights between Los Angeles and Nadi, Fiji which makes it easy to get to.