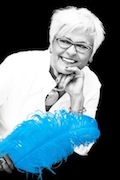 Hi Dr. Oz, my name is Carole and I just completed the 2-day cleanse prescribed by you in O Magazine a couple of months ago. 
Dr. Oz, I readily admit I will try anything once, perhaps out of boredom; maybe for the challenge; often just to 'live to tell the tale'. So I was intrigued that wintry day when I read of your 48 hours of 'spring cleaning' where you promised the opportunity 'to eat whole foods' (a place I never shop), nourish the body's detoxifying organs, and basically provide a good flush to the system of all the bad stuff. 
I was intrigued not so much for me but for my husband who as a drug user (NOT that kind) surely must be filled with inner dust and particles needed to be cleared away. And since he is the family cook I would have to go along for the ride … and the challenge. 
Here are my thoughts about the experience … 
I was actually looking forward to it. I knew it had to be better than the 'liquid plumber' of a routine colonoscopy regime which not only flushes out every lingering morsel but leaves you tooting like a bread wagon horse. I knew it wasn't about weight loss, although I would not turn my back (or side) to it. And you assured me I would not be left hungry. Thank goodness because it can get dangerous when that happens. 
I took it upon myself to create the grocery list for Joe which was so extensive I thought of sending a search party out to look for him. He eventually did arrive home laden with enough bags of special ingredients to fill the entire counter. As I watched him unload, I studied the supplies, all foreign in our household … a whole load of 'c' sounding foods like quinoa, cabbage, kale, caraway, cucumber and chia, (all to be chopped) but not a carb to be seen.
Without going through every step of your plan I will say other than my morning cuppa coffee, I followed it right through to your pointer to take an evening bath with epson salts. Thanks to that suggestion it took me a good hour to make sure the tub was clean enough for me to bathe in since it has been years since I indulged. I will admit however, the lounge time did give me an opportunity to plan our next bathroom renovation. 
The breakfast was mediocre at best. Was the ginger and nutmeg really necessary? The mid meal snack was palatable but not tasty and waay too green. The luncheon smoothie was actually pretty good except for the flaxseed lining my upper gums and teeth. And the dinner was well, truthfully somewhat nasty. I gotta tell you chewing on those shiitake caps reminded me of gnawing on my dolls rubber arm when I was a child. And the fermented sauerkraut chaser? Now I know with all that vinegar, if there was a hint of a germ finding homage in my digestive tract, it would be gone (lice despise vinegar, nail fungus shrivels up at the scent of it and weeds pass out and die when subjected to it). What starving gremlins designed this plan? 
By dinner time, I was giving Joe, the Vince Lombardi of life, the pep talk to not give up. Truthfully it's not that my attitude was much better, as I only survived a repeat of Day 1 because I knew it was Day 2 and therefore, the last. 
As you guaranteed there would be frequent trips to the washroom … 14 day 1, 16 day 2 to be precise. I kept track. But that was just pee. I was so looking forward to 'the other' of which I am generally most consistent with both frequency and constitution (sorry for sharing). I would ace your 'poop' test. It didn't help that Joe had quickly boasted about his flush which was akin to the evacuation of a small village. By the 36th hour if anything, I on the other hand was CONSTIPATED#!@! I know what you're thinking that perhaps Joe was more full of 'beep' than I.
No fair. I eventually did have a few B.M.'s but nothing to brag to Joe about and certainly not worthy of the $100 grocery bill. 
So, Dr. Oz although you assured me I would physically feel better, I am left feeling gaseous and yearning for something explosive to happen to make it all go away. You mentioned it left you with a sense of peace … funny, but not one person has said to me "oh, you look so calm, serene, and peaceful." However my family has griped a few times about how grumpy I am. 
And then you said: "There is a spiritual effect as well." Now, you're right there because numerous times over the 48 hours I uttered our Lord's name in vain (mea culpa on that). But somehow I don't think that counts. 
So in conclusion. I'm not happy. I experienced the 2-day cleanse and all I lost were 2 days of Joe's great cooking. Sorry but I must excuse myself … I have some gas to pass.  
www.carolebertuzziluciani.com (personal site)
www.moodivator.ca (CBL Presentations site)
www.ihaveastoryforyou.com (book site)
www.moodivator.ca/blog (blogs)
www.youtube.com/user/Moodivator (videos)