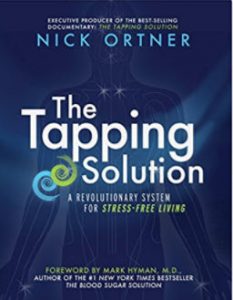 I really don't know what to say about The Tapping Solution by Nick Ortner other than claims that Tapping on specific parts of the body can accomplish amazing things seems too good to be true.  The book has received over 800 rave reviews on Amazon and endorsements from a variety of people from all walks of life. So, I guess it must be just me who doesn't "get it".
Here are just a few chapters from the Table of Contents:
Healing the Body
Releasing Physical Pain
Creating Love and Healthy Relationships
Making Money and Achieving Your Dreams
Eliminating Phobias and Fears
You can do that (and more) by tapping on certain parts of your body? What turned me off (perhaps unfairly) is the chapter dealing with making money. Reminded me of preachers who promote wealth building schemes. But what do I know since I haven't tried Tapping. 
Here is praise for the book on Amazon:
In The Tapping Solution, author Nick Ortner describes not only the history and science of tapping but also the practical applications. He lays out easy-to-use practices, diagrams, and worksheets that will teach readers, step-by-step, how to tap on a variety of issues. With chapters covering everything from the alleviation of pain to the encouragement of weight loss to fostering better relationships, Ortner opens readers' eyes to just how powerful this practice can be. Throughout the book, readers will see real-life stories of healing ranging from easing the pain of fibromyalgia to overcoming a fear of flying. The simple strategies Ortner outlines supposedly will help readers release their fears and clear limiting beliefs that hold them back from creating the life they want. 
If you have used Tapping and found it helpful, please let  readers know how it has helped you and in what way. Please use the comments box below.