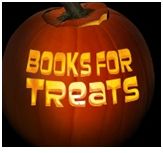 Barbara McNichol recommends giving Books for Treats, a nonprofit program that encourages giving new or gently read children's books instead of candy at Halloween. Says its founder Rebecca Morgan, "With the burgeoning numbers of kids with diabetes and obesity, it's time to shift Halloween treats to something that feeds their minds, not their cavities."
Giving books instead of candy not only helps raise kids' interest in reading; it increases the feeling that the community cares about their future. Reading encourages curiosity, imagination, and life-long learning.
The National Endowment for the Arts has reported that the average person aged 15 to 24 spends only seven minutes a day on "voluntary" reading. What if you could help kindle children's excitement about it before they become teenagers? They will then be more likely to carry a reading habit into adulthood.
So this Halloween, feed their minds instead of their cavities. Go to Books for Treats  and download a free kit of imaginative ways to offer books to your trick-or-treaters.
Visit  Barbara's website  and discover how she can help you be a better writer. Subscribe to her newsletter filled with helpful tips for writers