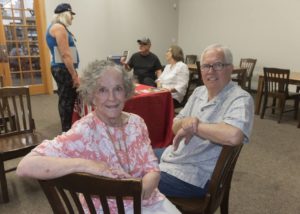 Ginnie Siena Bivona and Larry Upshaw, chief visionaries at AgelessAuthors.com
Photo: Dallas Morning News
When Ginnie Siena Bivona turned 42, she decided she was tired of "living under protective custody" tied to her wifely duties, raising five kids and playing bridge. She started writing poetry as an emotional outlet.
In the ensuing 43 years, Bivona wrote a book that became a Hallmark made-for-TV movie and a screenplay that's being considered by a producer in London for a TV series.
Now, at 85, she and her longtime friend Larry Upshaw, a well-known local legal PR guy, have launched Ageless Authors, a publishing company targeting would-be authors over 65. They're accepting submissions for their first nationwide writing and art contest.
"Larry says I seduced him into this," says Bivona, cocking her head toward the 68-year-old friend over breakfast at the Corner Bakery. "I'm 85 years old. How many women that age do you know who can seduce a guy into anything?"
"This" is more than a way to generate supplemental income for Bivona. It's her personal crusade.
You see, Bivona feels a maturing mind is a terrible thing to waste.
And she almost wasted hers.
She began writing poetry on 2 p.m Sunday, Sept. 12, 1973, while sitting at the kitchen table of her Dallas home and looking out the window.
Lamentations about her lack of personal fulfillment would be the beginnings of Notes From a Chameleon, Sort of a Memoir, a work that took 35 years to complete.
"It tells my whole life story in essays, poetry and my artwork," she says. "It's not depressing; it's mostly funny."
Bivona divorced her first husband in 1979 after 24 years. "Then I hooked up with a studly Italian," she says. "I'm a chili-cooking girl. We traveled all over Texas for 11 years. Our team was the Terlingua Creek Yacht Club & Marina. It was a blast. I loved it. Well, mostly, I loved it. And then I divorced him."
Her autobiography ends with the highlight of her life.
In 2008, her first novel, Ida Mae Tutweiler and the Traveling Tea Party, was adapted into a Hallmark Channel movie, Bound by a Secret, starring Meredith Baxter, Lesley Ann Warren and Timothy Bottoms.
She'd gone to Hollywood, or thereabouts, to see it filmed on the old set of Little House on the Prairie.
"It's way out in the wilderness deep in the desert mountains of Simi Valley," she says.
She and her daughter got to be two-second extras in a kitchen scene.
"It was on May 16, my 77th birthday. The director called me into the kitchen again in the afternoon, and I thought, 'This is weird.' This girl was standing there with a cake almost the size of this table with a picture of my novel in the frosting and "Happy Birthday Ginnie" written on it."
The finished project didn't bear much resemblance to her book, but what the heck, she says.
"I grew up in a world where you grew up, you got married, you got knocked up and you learned how to play bridge. And then you're done," Bivona says. "So stand me in the kitchen of a movie set where the cast and crew is singing 'Happy Birthday' to me because they're filming my novel — well, it does not get any better."
Creative outlet
Bivona was an acquisitions editor for Republic of Texas Press in the mid-1990s and later began helping people self-publish. With Upshaw's help, she'd like to make Ageless Authors a real publishing business. The contest is a way to draw in more works.
Upshaw, who's ghostwritten a dozen business books, sees Ageless Authors as a diversion from the world of attorneys and a pathway for retirement down the road.
"Ginnie's name opens doors in the book world like you would not believe," Upshaw says. "Everyone knows and loves her. I also want something meaningful to do when I retire in a few years. I just love hanging out with writers. Is there something wrong with me?"
The contest is open to anyone — amateur or professional — who's at least 65. The deadline is Aug. 15, and it costs $15 to enter.
"Here's the thing," Bivona says. "You get older, and the heat's off. You don't have to prove yourself in your job. Your kids are whatever they are. It's too damn late. You are free to be who you really are and expand on your creativity instead of your work."
Seniors can submit anything that tickles their fancy for this year's contest. Upcoming ones — they'd like to do two or three a year — will focus on themes. One anthology contemplated for next year is called Dang, I Wish I Hadn't Done That.
'Mission of pleasure'
Dallas author Jane Giddan and her husband are judges for the Ageless Authors contest. Giddan and her co-author, Ellen Cole, are lifelong friends who started the 70Candles!.com blog nearly six years ago as they approached their 70th birthdays.
Their book, 70Candles! Women Thriving in Their 8th Decade, which was published last summer, has been warmly endorsed twice by Jane Brody of The New York Times.
Three winners from each of four categories — essays, short stories, poetry and artwork — will get small cash awards and a few free copies of the anthology that will be published and sold in the fall. Other quality entries will also be included in the book.
They hope to make a little money selling books, Upshaw says. "It is our hope that each person who has work in the anthology will want to give copies to kids and grandkids, especially at Christmas."
A couple of weeks ago, Ageless Authors sponsored an event at Half Price Books' flagship store on Northwest Highway where Bivona and five authors who didn't start writing until they were over 65 encouraged senior wannabes.
One of the authors, James R. Callan, 83, always wanted to be a writer but couldn't support a family of six that way. So he got a graduate degree in mathematics and spent 35 years as a computer scientist.
One day, he realized the kids were grown and he was free to pursue his dream of writing. His first book was published when he was 65.
"I've published 11 — seven in the past few years," Callan says. His latest in his Crystal Moore suspense series, A Silver Medallion, is getting good reviews.
"It's a mission of pleasure, but I do make money," Callan says. "I probably still couldn't afford to support a sizable family. But that's OK."
————————————————
By Cheryl Hall Follow @CherylHall_DMN cherylhall@dallasnews.com
Business Columnist
Published: 07 July 2016
—————————————–