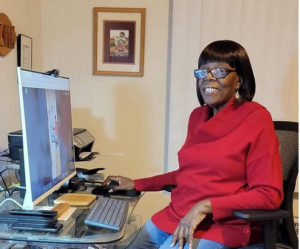 If my 47-year-old son David had his way, he would hire six or eight strong men to carry me around on a silk pillowed contraption like Cleopatra, and my feet would never touch the ground unless we were stopping to take care of bodily relief.
That said, he tries to make sure that he takes me to the store, parks right near the door, jumps out, runs around the car, and opens the door for me. He is all over me if I grunt while lifting my legs out of the car. "You okay, Mom?" In his opinion, when I assure him I am, he still watches me throughout the store for signs of impending weakness.
David is the only one of my four remaining adult children who does this. The others are too busy doing themselves and regrettable, it is a scenario played out all through society, where some stick around while others invent reasons to stay away. In David's case, he is not only the youngest but the one who witnessed a couple of my serious situations that placed me in the ER and ICU more than a few times from 2020 to 2021. While the doctors found some reasons and causes for these "losing consciousness" moments, David has taken it upon himself to be his mother's sole caretaker. Sometimes it is so cool, but other times, it can be overkill because most days, I feel fine. Also, I refuse to retire this energetic body to unnecessary bed rest. For David, it means endless floral flannel granny gowns (even in summer), a pile of pillows because he wants me to stay in bed and all the bland food that anyone has ever heard of.
To that, I respond, "Not on your life, buddy,": so I had to take back my life, as people say, because shopping with my son, while he reads the back of every can, carton, and box, sniffing out the carbs, sugar content, and what kind of sugar it is, wears me out. I love and appreciate him, but for most of my life and all of his life, I have been the super energized mom and grandmother, running along with the grandchildren I raised, the preschoolers I taught, and neck-in-neck with the public transportation that got me back and forth to my work.
So, one day about a month ago, I got back into my walking regime, you know, just around the parameter of our building. My eyesight is very poor, so I would go as far as the street corner and gaze longingly at Walgreen, Aldi in the distance, and Family Dollar. I have made the trio to those places so often. Still, my faulty sight does not allow me to go there, and just as I was thinking of just putting on one of those floral gowns, slathering myself with some topical pain reliever, and wait for The Price is Right to come on, my neighbor, Kay, who is four years younger than myself knocked on the door and asked if I wanted to take a trip down the street to Aldi! Now, Kay is a very nervous woman due to some things that happened to her as a young woman, but now and then, she takes heart and strikes out on her own, leaving Sam, her handsome feline friend, alone for a few hours so she can do her shopping.
Kay and I became friends due to our shared love for the written word; she is a library fanatic. We have deep talks and make "goodie: bags for each other that consist of old life hacks and cool stuff to brighten each other's day. So, when she said "a walk to Aldi," my ears heard "Road Trip!" well, "foot trip" at least and I jumped into my jeans and a bright yellow top, laced up my New Balance shoes and was at her door in a flash.
Now, Kay is eccentric, so I was not surprised to find her dressed in flamingo pink, ankle-length summer dress (she never wears slacks or jeans), white slip-on gym shoes, blue gloves (the kind for dishwashing), a COVID mask, and her waist-length gray hair in a long braid. She was pushing her walker and had her cane. I asked why the cane, and she said sweetly, "It's for you to hold onto as we navigate the street." My heart melted. How sweet of her to remember about my low vision.
Kay also knew a safer and faster shortcut than the route I used to take. We reached Aldi safe and sound! What a sight we must have been!
A tall Norwegian-born woman in attire that made her look like a modern-day Stepford wife, with her brown jean-clad friend, holding onto the cane that Kay laid across the walker for my convenience, and I could not help but think, "Wow! We make a great pair".
On the way back from our shopping trip, we stopped with our goodies, mine in beautiful canvas shopping bags I barely get to use and hers on her walker, at a little park area where an empty bench invited us to rest a while. A warm breeze blew against our faces, and for a while, we were silent, listening to the birds and end-of-summer noises around us, then we talked a little. Our combined ages equal more than 140 years of living, but for a moment, we were like two girls, giggling on a park bench, enjoying a simple breeze.
We have plans for the following Monday, but they involve a trip on a Metro mobility bus so we can visit a Hy-Vee store that is further than the one in our community. I've not mentioned this trip or even the other one to David. He is afraid to let me out of sight, though he lives with his fiancée and has to work a lot.
Perhaps next month, around my 75th birthday. He has to know that I am still his mother, adventurous and challenging to hold down, careful but not fearful, and as long as I can, I will be mobile, active, and just a bit boisterous, if you will. Life is too good to spend in bed wearing gowns unless you expect a girl in a red hooded cape or a big bad wolf! Just saying!
We all need each other, and we need each other more in this season of life!
Ecclesiastes 4:9-10 Two are better than one, for if either falls, one can help the other up.
Yes, at this stage of my life, I am "living large" and loving it. I have so much to be grateful for despite "circumstances" that would like to control my life.