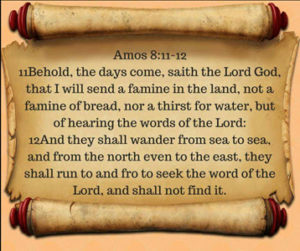 It's stunning, to me at least, that the famine Yahweh refers to in Amos 8:11-12 isn't an absence of the Word of God, but the inability of some to hear His Truth breathed into His Word by His Holy Spirit. They cannot, do not, hear the Word the way God intended it. More on this in a bit.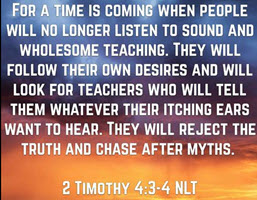 I increasingly see 2 Timothy 4:3-4 examples on social sites in memes; quotes from apostates and atheists, aka followers of Satan (whether they realize they are or not); and comments that are generally slurs and slanders against followers of Messiah Jesus and His Word. Please hear me: No true follower of Messiah Jesus is a proponent of removing any mention of Almighty God from public spaces, not to mention other matters people who claim to be "Christian" support. Note: I didn't say they're in favor of forcing this inclusion, but that they will never be in favor of removing it. Following Messiah Jesus is NOT a la carte. We do not get to choose what we'll follow and what we'll disregard, and we are to Glorify our Almighty God and Father with our thoughts, our words, our lives.
Video sites and TV are rife with messages for "itching ears" from either God-appointed, but now Laodicean, church leaders who've long ago forgotten their pure "first love" for Messiah Jesus, or worse, are self-appointed with no backing from Almighty God at all, though the devil makes sure they speak words itching ears want to hear so wallets open—a form of paying for one's own eternal demise. And, don't forget the infiltrators from the other kingdom, posing as God's shepherds.
I recently saw a posting claiming to be about an ancient Jewish tradition that defies God's command and approves homosexuality and gender fluidity, or so the meme said. I did a brief look-up online for the term the posting used for this "tradition," and didn't see any such thing included. What did come to mind was what Jesus said, in Mark 7:6-9 CJB,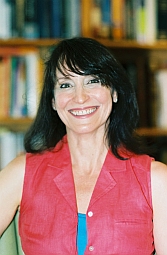 Yeshua [Jesus] answered them, "Yesha'yahu [Isaiah] was right when he prophesied about you hypocrites – as it is written, 'These people honor me with their lips, but their hearts are far away from me. Their worship of me is useless, because they teach man-made rules as if they were doctrines.' You depart from God's command and hold onto human tradition. Indeed," he said to them, "you have made a fine art of departing from God's command in order to keep your tradition!" [Most of us have no concept how engaged we are with doing this very thing. We are grossly misinformed, though it's all in the Word, but that's another story.]
One thing I've noticed is this: Just because the labels "Christian" or "Jewish" are used, it doesn't mean that all is well with the Lord in their regard. We are to pray for and use discernment, and know God's Word better than many of us do. Mark 7:6-9 is a perfect example. Any "tradition" that contradicts or goes against the Word of God is wrong—no matter who does it. Period. Full stop. HOWEVER, too many do not understand that the Bible is to be consumed and comprehended as one entire book, or that the Bible has at least four levels of comprehension we are to pursue. We are to dig deeper and use caution regarding translations. Would that we would behave like Bereans! This includes me, to some extent. But let me get back on track…
As promised above, here are contemporary examples of what people unable to hear believe (e.g., the famine of being unable to understand God's Word as He intended):
Your best life now aka Prosperity Gospel (see John 16:33, as well as other scriptures about this world vs. eternal life in God's Kingdom)
Salvation is by works, not grace (so what does that mean for the Cross? See Ephesians 2:8-9)
Jesus would have taken the jabs and worn a mask (ARE YOU KIDDING ME?! See Romans 1:16-17 and 4:1-8 and every other scripture about Messiah in the Old and New Testaments)
Jesus' death on the Cross made sin no longer sin and canceled Torah ("The whole of the law is to do as thou wilt" is Lucifer's seductive lie. See Matthew 5:17-20) [FYI: Hebrew translation of  the word Torah is "the loving instruction of the Father"]
Jesus was/is gay/bi/trans, and even if He wasn't, He's okay if you are (Read the whole Bible, and pray for any who've fallen for this deception)
Jesus isn't the Way, the Truth, and the Life because all paths and all gods are the way (See John 14:6)
Being a Christian means you're happy-happy all the time, affluent, no trials, you get along with everyone—more like go along to get along (See John 15:18-21 as only one example) [This does NOT refer to the true joy and peace in the Lord a follower of our Lord feels.]
What Jesus meant by "Love your neighbor as yourself" was to lovingly support whatever they say they are or do—those pesky old commandments no longer apply: love the people, love their sin… Love them right into eternal perdition (See Ezekiel 3:17-21, Romans 1:18-32, Galatians 5:13-26, 1 Corinthians 6:9-11, and Revelation 22:14-20)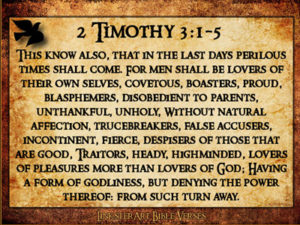 Any teaching that strays, deliberately or not, from the truth God stated or intended in His Word (based on exegesis, NOT eisegesis) is a form of godlessness, though may be presented as a form of godliness. Examples: Every bulleted item above and topics in above paragraphs; every church leader who does not preach repentance; every church leader who gives an altar call and then does not tutor/mentor/train the repentant in the Ways of the Lord our God. What about claiming abortion is a sacrament God approves of? Same for all the untruths being passed as truths and or into laws these days. Same for rewriting the Bible to remove any gender reference to Almighty God the FATHER, SON, AND HIS HOLY SPIRIT… as well as to reword the Word of God to say same-sex marriage is approved by God, transgenderism is approved by God, and on an on with the apostasy Messiah Jesus told us would happen in the last days before He returns. (See Matthew 13:14-15)
We need to ask our Almighty God and Father, every day, to make our hearts and minds more like that of Messiah Jesus, and to increase our hunger and thirst for His Word, and for a deeper, more intimate relationship with Him. Ask for increased knowledge that leads to increased understanding, wisdom, and discernment, especially so that we STAND in the days of trouble, trials, and tribulation upon us now and to come, as He has commanded those who are His, those paid for/redeemed by receiving Messiah Jesus' sacrifice on the Cross – giving His ALL for us to be saved and set free FROM sin, not to sin.
Below are three amazing videos/podcasts and a prayer for you.
The Word tells us we cannot dine at the table of the Lord as well as at Satan's table; that we are to choose this day whom we will serve. I invite you to watch Carter Conlon's "When Sin and Religion Become Friends," 48:50-min. Video https://www.youtube.com/watch?v=p8jg-2zPkwA
And from Jamie Walden, a powerful 56:56-min. Video, "Matters of the Heart—Watch Your Mouth!": https://www.youtube.com/watch?v=ThJ6gc3uw-Y
Frank/Remnant Call Radio & Guests: 1:06:35 "Answering the Call" podcast: https://www.youtube.com/watch?v=VokvBGHdd4k