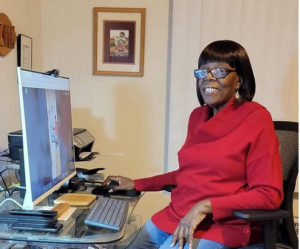 My parents pushed me out on one stage or another, beginning at age five or so. I remember someone having to adjust the microphone to my height as I either sang, recited, or made some other vocal offering to rows of upturned and not always eager faces, but I showed no fear. I did not know how to show fear because it seemed natural that I was part of a play, skit, or part of the debate team in high school. 
During my lifetime, I have run into some heavy bumps in the road, but in between, I found time to visit art museums with my children and teach them and my grandchildren about Shakespeare while teaching them about life. Neighborhood children often came to me for advice. While I pierced the ears of local children in my apartment (with their parents permission) I utiized the time to speak to teens about education and responsibility. While some took the advice sullenly, I have lived to see others become success stories.
I have more than twenty years of teaching preschool and have danced and cavorted across seeming acres of floors, teaching tykes about "Danger Stranger" and "Stop Drop and Roll." I have taught Sunday School, written short plays for our church youth, and on the other end, for women exiting prison and returning to the so-called regular world. Where some of these were tough and rebellious crowds, I find that the ones I have worked with in the last thirteen years have been the toughest. I am sometimes tempted to ask, "Is this mic ON?" 
This is not a crowd of former alcoholics or drug abusers, though some have seen that life. I am talking about my peers. Seniors like me refuse to give up the idea that infirmities and any "condition" should be worn like a suit with a matching vest and slacks. This crowd believes that there is nothing left of life to live. I know there are exceptions, but about 80% of the people I know beyond sixty have given up. That just cannot be! Can it?
One, for instance, is when many in my old building learned that I had been challenged with very low vision. My goodness! You would think I have been struck by lightning or carrying snake venom in an open container. The looks I get by the mailboxes are usually mixed with pity, or a hush falls on the entire hallway until some brave soul asks, "How are your eyes today?"  I try not to sigh, but sometimes I do, just for effect. So, the other day when someone asked a similar question, I stood still and gave them the works. The person mentioned the fact they heard I am a minister. They went about it in a round-the-bush way, but I smiled and admitted it, and I could tell by their quizzical look they would ask how God did not heal my eyes and be done with it. 
I went into the whole thing about how Jesus healed many people and raised Lazarus and Jairus' daughter from the dead. I threw in a little about Daniel in the lion's den and Shadrach, Meschach, and Abednego, but seeing the alarm on their faces, I calmed down my mini-sermon and assured them that my faith was not shattered, slipping, or sliding.
Do I have times of despair or fear? Of course, but God has never let me down. I do not expect that He will do so anytime soon. As they walked away (I am sure they wanted to back away, I wondered if I had frightened them, but as I walked back to my apartment, I did not believe I had, and I was reminded of an old hymn. It is called "At the Cross," and I began humming it as I went through my apartment door. 
The part of the song I like the best is:
At the cross, at the cross where I first saw the light
And the burdens of my heart rolled away
It was there by FAITH I received my SIGHT
And now, I am happy all day! 
I am convinced that whatever the outcome of my physical sight challenge
My SPIRITUAL sight keeps getting better. Not in the way humans always say, "Well, when you lose one thing, the other gets stronger"….well, kind of, but God speaks to my heart differently. I might be sad or unsure of my "what next" in those times. But, I also know that others are going through the same or worse than myself, and one of my new favorite bible verses is ll Corinthians4:17 (KJV) For our light affliction, which is but for a moment, worketh for us a far more exceeding and eternal weight of glory. 
I pray that my fellow seniors will keep "doing" and "living" beyond the restrictions this society attempts to throw at us. Yes, we will have them, but what do we do with them? Sit down and give up? I think I am more active than I have ever been. I hop on the senior bus with my friends and go! I am writing for a magazine called Minnesota Good Age (more on that later. I have been interviewed again for The Star Tribune, and writing once again for Sundie Morning Sistas. My big deal is awaiting a review on my manuscript for my memoir, yet un-named. 
The little girl who spoke, sang, curtsied, smiled, and shared with congregations and students of many ages is still in there. I am blessed to share her whenever and wherever I am needed.  Let your light shine. It is waiting inside of you! Just go for it!