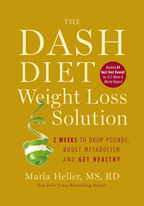 Way back when the DASH (Dietary Approaches to Stop Hypertension) diet was considered to be only for the research setting, Marla Heller decided to make it easy for anyone to follow. DASH was too important to health; it couldn't just sit on the shelf. So she created an actionable plan that almost anyone can put into action in their real life.
 Ready for your 8 simple resolutions to get you on the DASH diet path?
 1. Have 3 meals and 2 – 3 snacks every day. Deprivation doesn't lead to lasting weight loss.
2. Make colorful veggies the center of your meal. They are bulky, filling, and healthy, while low in calories.
3. Add lean protein-rich foods to make a meal that satisfies and won't leave you hungry an hour later.
4. Choose 2 – 3 dairy foods that are low-fat or nonfat, every day. Dairy boosts protein and helps quench hunger.
5. Add fresh fruits to satisfy your sweet tooth the healthy way.
6. Nuts, beans, and seeds make fun snacks that love your heart and help you lose weight.
7. When you have grains, choose whole grains.
8. Watch your waistline shrink. You are improving your health as you lose weight, with these healthy resolutions.
The DASH Diet Weight Loss Solution is based on these rules. And while it helps you lose weight, DASH also makes you healthier. DASH is proven to lower blood pressure, cholesterol, lower your risk of heart attack, stroke, diabetes, and some cancers.
 DASH for it!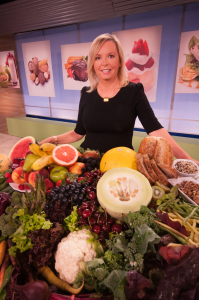 Marla Heller, MS, RD is the author of the best-selling books, The DASH Diet Action Plan, The DASH Diet Weight Loss Solution, and The Everyday DASH Diet Cookbook. Marla's specialty is in making complex nutrition easy to understand.
*Note: Every year U.S. News & World Report evaluates the most popular diets (32 this year) and identifies the best (http://health.usnews.com/best-diet). The DASH diet was named #1 overall diet (for the 4th year in a row) and Best Diet for Healthy Eating. It was also tied for #1 as the Best Diabetes Diet. 
For more information, for a review copy of any of Heller's books, or to speak to Marla Heller for an interview or story, contact kate@ksbpromotions.com or call 800-304-3269 or 616-676-0758.