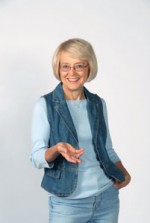 Moving on isn't always easy….but it's time. When I began writing for Put Old on Hold, I had no idea I'd still be at it six years later. But working with Barbara has made me suspend my usual need to "move on" to a new challenge after a few years. Sharing our passion for retirement as a vibrant, new beginning (instead of a long, slow end) has been has been rewarding for me.   Plus the chance to write for Put Old on Hold has given me the chance to get to know Barbara. That has been a delight.
I preach "Do what you love." Much as I have loved working with Barbara and writing for the newsletter, but "the retirement stuff" no longer resonates for me. Quite a few good books and speakers are now available on the topic. So I can return to my lifelong interest–writing novels. The non-fiction retirement effort has become a "should."
And "shoulds" are red flags. "Should," means what you're doing is not in sync with who you really are and the purpose you have for being here.
This will be my last regular column for Put Old on Hold. (Some of you may suggest none of them have been "regular" but let's not quibble…) Thank you for reading what I've offered and for your comments and kind words.
I'm in the process of creating a new website: www.marylloydwriter.comto showcase what I am working on as a writer and to blog as one. (I'd hoped all of this would dovetail perfectly but this has not been the summer of anything dovetailing even imperfectly.) I will post the news of that launch on www.mining-silver.com as well asking Barbara to pass the word.
But I already have big news!   My first novel, Widow Boy is coming out Sept. 15. It's a thriller about a young wife's quest for justice after her husband is killed on their way to Cripple Creek, Colorado at the start of the gold rush in 1893. After learning she can't trust the law, she assumes she must find that justice herself and masquerades as a boy to survive in the raw new town. She takes a job running errands for a brothel to buy time to perfect a plan. When she learns the ruthless leader of the gang wants to kill her, everything changes.
An agent once referred to the story as a "period feminist thriller." Nah… It's really a western—but with a female lead. (No one rides off into the sunset, however.) Or you can call it "historical fiction"—because it is.
A big part of writing this book was research to get the facts right. I lived near Cripple Creek when I started work on it, and really got into the research. I studied mining techniques and assaying procedures. I studied the geology, geography, and topography of the area. I volunteered at a local mining museum to learn the hand mining techniques she and her mentor use. I asked for help from friends who knew horses and mules. And guns. (The idea of her taking the job at the brothel came from an old timer who served as an expert for a field trip for a class I took on the history of the area. He said the brothels used errand boys after the city fathers banished them from the main business street in town.) Then I boiled that massive volume of information down into small bits that made the plot move and the main characters believable.
I'm proud of this book for many reasons (the cover being one of them—but that's another story). It's a good read—really. I hope you check it out.
Because I need to practice what I preach ("Do what works for you."), the book will be available (as of September 15) as a trade paperback via Amazon's print-on-demand service. You can order it from Amazon, but you can also ask your favorite book store to order it for you.  It will also be available as an e-book on Kindle. (Since the vast majority of my e-book sales for Supercharged Retirement have been in the Kindle format, the extra rigmarole involved in providing all the other formats was just not justifiable. Sorry.)
It's been a delight to be part of the Put Old on Hold family. I'd love to be able to keep you informed about this new adventure and to hear your comments as things unfold. If you'd like to be on that mailing list, please let me know at mary@mining-silver.com. Thanks again for all your support.