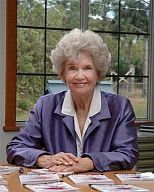 Since I am a morning person I awaken early, often at 3:30 or 4:00. I plug in the percolator (my preference) and begin my day. While waiting on my coffee, I turn on my computer and check e-mail with a glance at Facebook. There aren't many of my friends online at that time of morning but I can transfer meaningful columns to share with others. THEN I decide which manuscript I want to work on; having several in-progress books and/or articles gives me a choice.
This morning I closed an e-mail with, "It's a beautiful day in S.E. Alabama." After I sent the message, I realized that daylight was just easing through my many windows. I thought, "How can I say it is a beautiful day when it is mostly dark outside; it could be a stormy day." Then I realized that the beauty of my day has nothing to do with the weather. Knowing that I have been given the gift of another day makes that time a thing of beauty.
Because I consider that my health is good; I am able to do all that I need to do and I am thankful for that. I have just a tad of a stubborn streak, so Parkinson's, neuropathy, numerous mini-strokes, and high blood pressure doesn't stop me. I can walk around my home in the woods as I enjoy the scenes of nature surrounding the property. This reminds me that I have a Heavenly Father who is sustaining me each hour. I can thin the new veggie plants in the garden before it gets too hot outside. I can put more flowering plants in the broken-handled wheelbarrow in the yard, insuring a cloud of red and white blossoms which are eye-catching from the long driveway.
I can use these early hours to thank the Lord for comforting those who are grieving. I can pray for those in depression for whatever reason, that they too will be comforted as they are reminded of God's love. I can voice my gratitude for my blessings…which are too numerous to count.
After preparing fresh sweet iced tea for supper, I sit on the front porch as I enjoy another cup of coffee. I especially enjoy sitting here while watching the rain and listening to the soothing sound as the heavy drops hit the metal roof.
Yes, there are situations which could keep me upset. In a large family, and in life, there are possible problems all around us. The secret is to learn to control our thoughts. It isn't necessary to dwell on the painful experiences we have or have had. This brings us down into the ditch of despair. At that point we see nothing that makes us glad to be alive…and nothing in the future. This is a very lonely place to be.
We must change the channel of our thoughts. We KNOW, but don't realize, that we can choose our thoughts. Being more AWARE OF THAT FACT helped to change my life as I realized the difference between really living and only existing. These are two different worlds! All of us have negative experiences that can destroy us IF we allow it. All must learn, as I have, to look for the positive thoughts, the happy memories, to seek that sense of achievement rather than throwing away any possibilities yet to come. From being tired of living, I had no idea that my best years were in the future – where I look forward to each day! I realize that something wonderful could happen today — and it often does!
Don't look for the storm clouds all around us. LOOK for those small rays of sunlight that are barely visible but are trying to burst forth in our dawns. THESE are the ones that bring us peace with God as well as the peace of God. At age 82, this works for me; why don't YOU try it?
Lura Zerick an 82-year-old great grandmother enjoys learning new things. Give her an Elvis song with a good beat and watch her go! Her favorite things are reading, listening to music, singing, cooking/baking, birds and words. She  enjoys 12 great grandchildren and 6 great grand children; loves to encourage them o cook, write and sing, as well as use their other abilities. She can be reached at lzerick22@gmail.com Visit her website