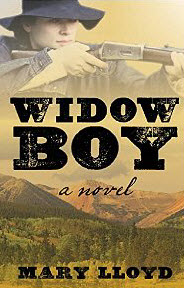 Mary Lloyd's new book, Widow Boy has everything you could want in a story about life in the untamed West in the late 1800s — love, lust, greed, intrigue, murder, and the foibles of human nature. Make no mistake, this novel is no hastily thrown together shoot 'em up. It is evident author Mary Lloyd spent an enormous amount of time on meticulous research including visiting the actual location of the story setting, as well as doing other research most authors would not do to provide as much authenticity as possible.
If you enjoy suspense that keeps you on the edge of your seat in anticipation of what might happen next; if you think you know where a story is going but find twists and turns that move the action in an entirely different direction and you love the surprise, Widow Boy is the story for you.
Not only is Mary Lloyd a master story teller, she has the rare ability to bring beautifully developed characters to life. From dastardly diseased Rafe Pettibone constantly scheming to catch and kill the Widow Boy; to the jaded Miss Tess who owns the local house of pleasure, (and would never be seen except in her alluring finery), to Irene, the savvy biscuit baking cook at Miss Tess's pleasure palace who quickly uncovers the truth about the Widow Boy but keeps the secret, to the evil machinations of Cripple Creek's greedy assayer Clarence Billingsley — and so much more — the author puts you right in the middle of it all, letting you experience the fast paced action. You will find yourself holding your breath in anticipation of what's going to happen next.As I read I kept thinking it would make a great movie. If it isn't turned into screen play, Hollywood is missing a blockbuster opportunity.
About the title, Widow Boy: Yes, there is a "widow boy" but I'm not going to spoil your reading pleasure and divulge how that anomaly comes about and the Widow Boy's role in the drama. Pick up a copy for your Kindle or get a print copy. You are in for a rare treat.