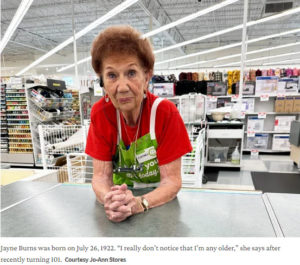 Grandma Moses started to paint at age 78. Julia Child started her cooking show at 51. JRR Tolkien wrote "Lord of the Rings" at 62. At 77, John Glenn became the oldest astronaut to travel in space. Many lesser-known individuals, such as the 100-year-old Cleveland doctor, still works and has no plans to retire. Or the 89-year-old Japanese man named the world's oldest surfer. And, Woman 101 still works a job and has tips for a healthy, long life. The photo to the left is the 101-year-old woman at work.
Now consider this:
38.6% of nursing home residents are older than 85 and
26.7% of residents are between 75 and 84
If the above stats are accurate, what will your life be like? Your future is up to you if you are now in your sixties and in reasonably good health. Your death is probably not imminent. We treat healthy, advanced old age as unusual, but it's not anymore. Age 100 and beyond should be the norm, and it's getting to be. Believe it or not,  Noah was said to be 500 years of age when he built the Ark.
As much as I dislike Joe Biden, I wish the media would stop yapping about his being unfit to run "because of his age." His age is not the cause of his senility. If age were the cause, we could expect more 79-year-old persons with senility. 
Your lifestyle and mindset control how well you age more than you think. An open, growth-oriented, positive attitude about life could add 7.5 years to your life. A Growth Mindset thrives on challenges and sees failure as a chance to learn and improve — regardless of age.
There is something most seniors are unaware of or refuse to acknowledge: the typical Senior Mindset. Not every senior has it, but must have it. It's accepting and internalizing the meaning of the word "senior."
Embedded in the word "senior" are images, presumptions, and expectations for how you, a senior, is to think and live as you age. With each passing year, sooner or later, the nagging expectation of death becomes ever closer because you believe your remaining years are limited.  For example, if you are age  90 and want  to do something that requires a lot of time and preparation, it's easy to think, "At my age, does it make sense to start something I may not live long enough to finish?" A better way to consider it would be, "So what! If I am now 90, I'll do as much as possible for as long as life lasts and  have fun doing it."
Cultural norms and outdated cultural standards pretty much rule most seniors' lives. For example,  after age 80, you are not expected to be as mentally and physically competent as you used to be. If you pay attention to TV commercials for the Balance of Nature product,  male golfers say the product has been so helpful that they expect to be able to play golf at age 80. Why is age 80 the cut-off date? The answer is simple: being physically active only until age 80 is an expected and accepted  "cultural norm."
 When anticipating retirement, a worker knows nothing of the retirement world other than what they have heard. After retirement becomes a reality, you find new friends and groups "on the same page"  that you are. It's fun and freedom until time and the disorders of "old age" kick in. The awareness of the closeness of death can be a constant, intense companion. Added to typical "aging angst" is the problem of waning retirement funds. If retirement funds don't last as long as intended or expected, they leave the retiree with meager monthly Social Security checks. This doesn't happen to every retiree, but it happens to enough retirees to be a significant issue.
If you are caught in a financial straitjacket, the key is to say to yourself, "I'm going to live until I die. To hell with my chronological number (age), my aches, pains, and financial woes. I will not surrender to outdated cultural norms and standards that would deny me reaching my full potential.   I will avoid typical senior activities that keep seniors in a decline-oriented "Senior Mindset." Instead, I will nurture a healthy, active Growth Mindset that will enable me to use all my abilities for all my life to the extent possible. I'll get a job and be happy being productive again."
Just know you can do more than you think you can. You can be the 101-year-old woman who still works 9-5 and enjoys a happy, fulfilled life. (Not every 101-year-old can do it, but I suggest you shoot for it. Don't allow a typical moldy Senior Mindset to rule or ruin your life, however many years you have left.