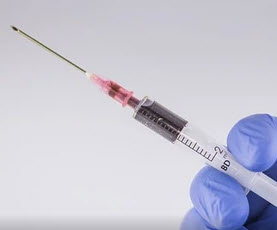 It is clear that the next phase of the COVID hoax is becoming a reality. Remember when the COVID shot first became available? It was administered in response to fear generated by the government.  People were so terrified by COVID they couldn't get a shot quick enough. They feared that if they didn't get a shot ASAP, they would die. We are now seeing that some (if not many) ARE beginning to die — not from COVID but from the shot we were told would save us from dying.
We are coming full circle. People who received the shot are beginning to die or suffer debilitating consequences.  Yet, the government continues to press for everyone to get a shot. The government is so determined that often, police departments and other entities are offering huge sums to entice new recruits to get a shot. The government is relentless. Even as the deadly purpose of the shot is beginning to surface into public view, the government continues to urge everyone to get a shot — even babies.
Let's deal with the truth: The purpose of the shot is not to protect anyone's health, It's designed to reduce and control the global population.  There is gathering evidence that people ARE dying, but even the conservative media pretends the shot was not at fault. Tragically, the truth is leaking out only a little at a time while the government continues to run glossy Public Service Announcements (PSA) promoting the shot.
The truth is so horrifying that the uninformed population is unwilling to see or believe what our government is doing to us. This "See no evil Speak no evil aberrant behavior is a result of something called Mass Formation Psychology which is explained in the Mass Formation link below.
Dr.  Christiane Northrup: "It Is Very Clear that what We Have Going on Here Is a Genocide"
Almost three years ago, Dr. Sherri Tenpenny explained why the shot would cause deaths.
Survey: More Than 750,000 Dead, 30 Million Injured Because of COVID Vax
Reactivation of Chickenpox Virus Following COVID-19 Injections on the Rise
Pfizer COVID-19 Vaccine Impacts Semen: Study
What better way to manipulate population growth
Mass formation– Explains  why so many people appear mentally ill
 "I would get pregnant just to kill it"
Canadian pastor says health officials offered church $50,000 to push vaccines
FDA finally admits that covid vaccines cause blood clots
Many people fully vaccinated for COVID are now going BLIND
Microscopic Video of Engineered Bio Structures Removed from Blood Vessels
Shocking microscopy photos of blood clots extracted from those who "suddenly died" – crystalline structures, nanowires, chalky particles and fibrous structures
Pathologist: COVID-19 shots causing foot-long blood clots
 'Significant' Cases of Neurological Disorder Associated With the AstraZeneca Vaccine
CDC Wants Its COVID Regime Made Permanent
 Pfizer's own documents admit that mRNA COVID vaccines will result in mass depopulation
FDA finally admits that covid vaccines cause blood clots
The World Economic Forum seeks absolute control over world populations, demands consolidation of power
The bluetooth challenge is explained. Why COVID vaxxed people are emitting Bluetooth codes and how you can see it for yourself.
Globalists move into the KILL PHASE of human extermination