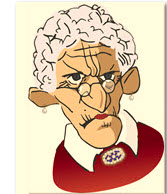 Last month, I wrote a semi-scathing article to air my views about tattoos on women. I still don't like them — that hasn't changed. Tattoos still send a negative message about how a woman feels about herself. I will stick to my belief that women are as beautiful as God made them, and  decorating the body with permanent designs, no matter how beautiful, is an offense to God. No, I don't have a Biblical reference to justify my opinion. If you disagree, that's fine. Just be aware of the internal damage that may occur due to poisons in tattoo ink. I'll give them here again as a reminder.
Here are chemicals found in specific tattoo ink colors:
Red—azo pigments,

mercury

, cadmium, and iron
Blue — cobalt, copper
Green — chromium,

lead

, aluminum, and copper
Yellow — cadmium,

lead

, and zinc
Orange — cadmium
White —

lead

, titanium, zinc, and barium
Black — nickel
Notice the deadly lead. Today, you cannot buy house paint if it contains lead.
What else can be found in tattoo ink? Nanoparticles, bacteria, and additives. Research published in The British Journal of Dermatology noted that the nanoparticles in tattoo ink are so small they can penetrate through the skin layers and into the bloodstream.
Back to my apology.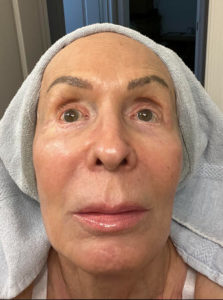 I  have new eyebrows (mugshot left) No, they are not penciled in — they are tattooed in. Boy, am I embarrassed! However,  my embarrassment is fleeting. They look fantastic. They are too dark but will lighten up. I justified my decision to get tattoed brows because my original brows were all but gone. I defend my decision to get tattooed brows because  "Not much ink was used." Yes, I hear your chant ringing in my ears-"Shame on you, Barbara! You are a hypocrite.!" I humbly reply, mea culpa, mea culpa! Yes, I am a hypocrite and worse, I look like a scarecrow!.  Look at it this way: We are born with eyebrows. When they fade away, it's okay to replace them. I'm not adding anything. I'm just replacing what was there originally. (Poor excuse, but I don't care! I have brows again!)
Good news from beauty advisor Ms Ginger Snapp:
If you still have brows, but they have lightened so much that they are barely visible, there is good news from my Pennsylvania beauty advisor,  Ms. Ginger Snapp. (Not her real name)  Her brows have  caused much angst for Ms. Ginger, so it is good news that she has found a product  that REALLY works (it's not a tattoo.)  It's  Vitabrow.  And yes, it's $100 plus. Take a look at the site. Ms. Ginger is over the moon about her discovery. Perhaps it will be an answer to your eyebrow anguish as well.  (Thank you, Ms Ginger, for sharing this beauty find!)